PermataBank Continues to Achieve Positive Profit and Asset Growth in Q3 2021
By : Nata Kesuma | Friday, October 29 2021 - 22:00 IWST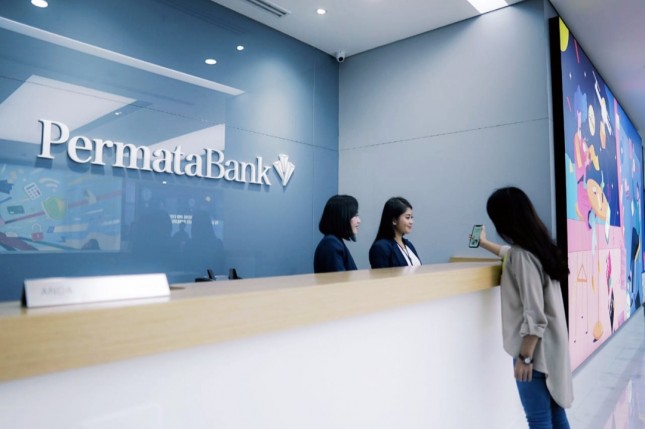 PT Bank Permata Tbk ("PermataBank" or "Bank")
INDUSTRY.co.id - Jakarta – PT Bank Permata Tbk ("PermataBank" or "Bank") has again demonstrated consistency in asset growth and solid performance improvement while maintaining prudential principles in managing credit risk and ensuring credit loss assessment.
The growth of Gross Domestic Product (GDP), which began in the second quarter, and the success of the vaccination program run by the Government of Indonesia to reduce the number of COVID-19 cases have started to produce positive movements in economic recovery and credit growth.
Chalit Tayjasanant, President Director of PermataBank said, "Towards the end of 2021, PermataBank has shown a strong and consistent performance. We strive to continue reaching a wider market and customer segment by offering more innovative digital banking products and services with the full synergy and support of our controlling shareholder, Bangkok Bank. Our positive performance in the third quarter of 2021 is also the result from the support of our loyal customers who always move forward together and makes us to be their bank of choice and our commitment to continue to provide the convenience and safety in banking transactions and to contribute to Indonesia's economic growth."
In line with the Indonesia economic recovery, the Bank recorded asset growth of 31% YoY to Rp219 trillion, which kept PermataBank in the ranks of the 10 largest commercial banks in Indonesia by total asset value. Loan disbursement grew significantly by 21% YoY to Rp124.2 trillion, mainly driven by 45% YoY growth in corporate loans and 23% YoY growth in mortgage loans.
From the financial side, customer deposits grew by 23% YoY, mainly contributed by the growth in savings and current accounts by 28%. This achievement is aligned with the Bank's strategy to focus on growing customer deposits at lower costs to support lending at more competitive interest rates in the long term. In line with this, the Bank's CASA ratio increased to 53%, higher than the December 2020 position of 51%.
In line with asset growth, the Bank's Operating Income Growth was Rp7.5 trillion or 17% YoY, and Operating Profit before Provisions grew by 28% YoY to Rp3.5 trillion. Operating Income growth was contributed by Net Interest Income growth of 28%. Those numbers reflect the optimal management of funds, both customer deposits and paid-up funds from shareholders.
The ratio of expenses to operating income (BOPO) is at 88%, an improvement from the same period last year of 92%, which was contributed by a decrease in credit losses, such as the improvement in the quality of the Bank's loan portfolio.
Credit growth and improved performance of the Bank has resulted in the third quarter of 2021 Net Profit after tax was successfully recorded at Rp831 billion, a significant increase of 93% or almost doubled compared to the same period last year of Rp430 billion.
The Bank's credit portfolio quality is still well maintained with gross and net NPL ratios of 3.3% and 0.9%, respectively, better than the same period last year with ratios of 3.8% and 1.5%. The Bank recorded credit losses to anticipate potential credit losses that could occur due to the ongoing pandemic, by maintaining an NPL coverage ratio of 217%, almost double the NPL coverage ratio of 118% last year.
The Bank's capital ratio is the strongest among the top 10 Commercial Banks in Indonesia, with a CAR and CET-1 ratio of 34% and 26%, respectively, which is a key enabler for the Bank to encourage business growth both organically and inorganically.
PermataBank continues to strengthen its commitment to support the Government of Indonesia in supporting economic recovery by carrying out intermediary functions effectively and efficiently with support from Bangkok Bank PCL as the controlling shareholder.
Being part of the Bangkok Bank Group, which is the strongest Corporate Bank in Thailand, PermataBank will continue to strengthen its branding position as a universal bank in Indonesia and make continuous innovations and investments, both in terms of offering relevant products and, in the field of digital banking, to provide pleasant, satisfying services and transaction experiences for customers in the Retail, SME, Commercial and Corporate segments.
Until the third quarter of 2021, PermataBank has scored several achievements in digital banking product innovation through the collaboration of API Banking with the Association of Rural Banks and implementing Cross-Border QR Pay to support the initiative from Bank Indonesia.
PermataBank Syariah also launched "The First Shariah API Solution" for Islamic Financial Institutions (LKS). This year, PermataBank celebrated its 19-year journey of serving its customers in Indonesia and brought back Wealth Wisdom, the largest wholistic wealth event in Indonesia, which was held for the first time virtually and managed to attract more than 1 million participants in two days.
The event featured notable speakers comprising 4 Indonesian Ministers and more than 50 reputable speakers covering a range of current topics related to this year's theme on "Wellness to Wealth". Meanwhile in corporate social responsibility, PermataHati CSR relaunched PermataBRAVE, a sustainable CSR commitment through a People with Disabilities (PWD) Empowerment Program that includes continuous education and coaching as well as competency improvement to create inclusivity and equality for people with disabilities in Indonesia.