Indonesia Gains World Leaders' Supports for Its G20 Presidency in 2022
By : Nata Kesuma | Monday, November 01 2021 - 20:00 IWST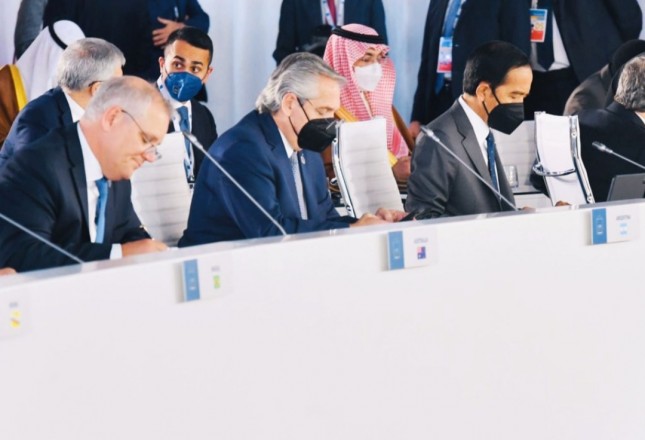 President Joko Widodo attends G20 Summit in Rome, Italy, Saturday (30/10). (Photo by: BPMI of Presidential Secretariat/Laily Rachev)
INDUSTRY.co.id - Indonesia has gained supports from world leaders to focus on digital economy and establish economic partnership with the European Union and Turkey in its G20 Presidency next year, Coordinating Minister for Economic Affairs Airlangga Hartarto has said.
The Minister made the statement while delivering the results of several bilateral meetings President Joko "Jokowi" held with other world leaders on Saturday (30/10) at Splendide Royal Hotel in Rome, Italy.
In the meeting with Australian Prime Minister Scott Morrison, Indonesia and Australia agreed to propose for a discussion on digital economy at the G20 forum in Indonesia's upcoming Presidency.
This is carried out so as to not make policies and regulations on the digital sector, especially digital platforms, different from those on the conventional sector.
"We hope that bullying in media, for example, will be regulated by platforms responsibly in a balanced manner," the Minister said after accompanying President Joko "Jokowi" Widodo at G20 Summit in La Nuvola.
The Minister added that Indonesia also gained support from French President Emmanuel Macron in a bilateral meeting at Splendide Royal Hotel where President Jokowi and President Macron discussed plans to establish Indonesia-European Union Comprehensive Economic Partnership Agreement (IEU-CEPA).
According to the Minister, President Jokowi called for the acceleration of IEU-CEPA establishment, which is expected to improve Indonesia's economy and increase Indonesia's export to Europe and vice versa.
"We certainly hope that Indonesia, which will hold the G20 Presidency, has strong bargaining power and Indonesia's Presidency of G20 and IEU brings benefits to complete it," the Minister said.
Furthermore, the Minister stated that Turkish President Recep Tayyip Erdoğan also expressed a similar sentiment on the plan to accelerate the establishment of Indonesia-Turkey Comprehensive Economic Partnership Agreement (IT-CEPA), which is expected to retrieve Indonesia's huge crude palm oil market that has shrunk previously.
"Therefore, we certainly need to accelerate IT-CEPA to retrieve it. The President has assigned Minister of Trade to deal with the CEPA," the Minister remarked.