Metrodata Collaborates with AWS to Help Indonesian Businesses Transform Using the Cloud
By : Nata Kesuma | Wednesday, December 01 2021 - 19:38 IWST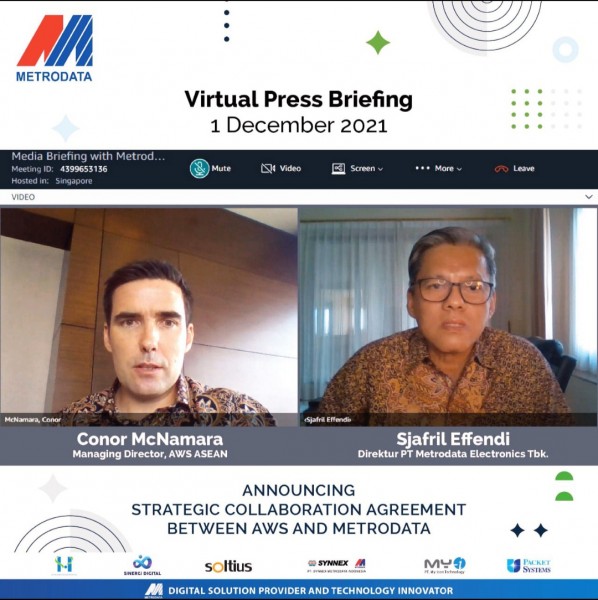 Announcing Strategic collaboration agreament between AWS and Metrodata
INDUSTRY.co.id - Jakarta, Indonesia, 1 December 2021 – PT Metrodata Electronics Tbk (IDX: MTDL or "Metrodata"), an information and communication technology (ICT) company specializing in digital solutions and hardware and software distribution, announced today a strategic collaboration agreement (SCA) with Amazon Web Services (AWS) to provide innovative and comprehensive cloud solutions to organizations in Indonesia.
As part of the collaboration, Metrodata will establish a Cloud Center of Excellence (CCOE) team, working with AWS professionals to provide unified and proven services to AWS users in Indonesia.
These services will concentrate on workload migration/modernization, Windows on AWS, SAP on AWS, VMware Cloud on AWS, Database Migration, Data Analytics, and Cloud Managed Services/day 2 operations.
Digital transformation is essential for organizations of all sizes to compete and maintain a competitive edge in the eyes of their clients. The cloud plays a central role in the digital transformation strategy of businesses by providing organizations with the security, speed, reliability, scalability, and a comprehensive suite of services they need to bring innovative services to market quickly.
Metrodata's 8 Pillars of Digital Solutions is a comprehensive framework which aims to ensure organizations have the right services to digitally transform. These include Cloud Services, Big Data & Analytics, Hybrid IT Infrastructure, Security, Business Application, Digital Business Platform, Consulting & Advisory Services, and Managed Services.
Since collaborating with AWS, Metrodata has assisted numerous businesses, including Garuda food, Gudang Garam, FMCG industry, Health industry and many other customers in various industry, in accelerating their operations through the implementation of cloud services.
"We are delighted to partner with AWS through this strategic collaboration agreement. Businesses need to be agile more than ever to capitalize on rapid developments in the local and regional economy. To achieve greater speed, Indonesian organizations need to fast-track their digital transformation journey using the cloud. As an AWS Advanced Consulting Partner, we are proud to help local organizations digitally transform through our expertise in areas including Migration, Windows on AWS, Databases, Big Data, DevOps, and SAP on AWS. We are committed to continuously increasing the capabilities of our technical and business teams to ensure our clients always have the greatest cloud experience possible," said PT Metrodata Electronics Tbk's Director, Sjafril Effendi.
Conor McNamara, Managing Director, AWS ASEAN, commented: In the eight years since joining the AWS Partner Network (APN), Metrodata has played an important role in accelerating cloud adoption in Indonesia.
Combining its industry experience, track record in customer delivery and growing AWS Cloud proficiency, Metrodata has been instrumental in helping enterprises from a diverse range of industries including Financial Services and public Infrastructure harness the transformative power of the AWS Cloud.
As the upcoming launch of our new AWS Asia Pacific (Jakarta) Region signals an exciting new chapter for our business in Indonesia, I am thrilled to further deepen our partnership with Metrodata with the recent signing of our strategic collaboration agreement. This agreement, which sets out ambitious mutual goals paves the way for AWS and Metrodata to further accelerate our partnership and support the cloud enabled transformation of the next wave of Indonesian customers.