Standard Chartered: Indonesia's economy to see faster recovery this year
By : Nata Kesuma | Thursday, July 28 2022 - 11:10 IWST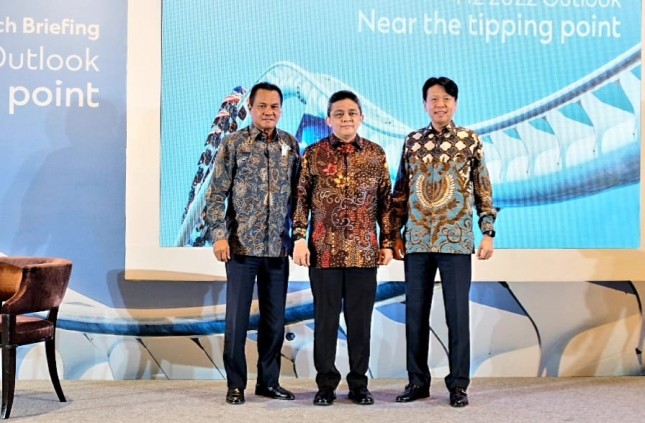 Standard Chartered Bank Indonesia
INDUSTRY.co.id - 25 July 2022, Jakarta – Indonesia's economy is expected to undergo faster growth this year, while the country's central bank will likely take a more moderate approach in regard to its policy rate.
The two points were among outlooks highlighted in Standard Chartered's Global Focus – Economic Outlook Q3 2022 report, delivered during the annual Global Research Briefing (GRB) H2 2022 event for Indonesia today.
Held physically for the first time in two years, the annual event was attended by the Bank's stakeholders, which included government representatives, international and national financial institutions, as well as business actors.
This year's GRB event featured global and domestic economic projections from Edward Lee, Chief Economist, ASEAN and South Asia, Standard Chartered, Divya Devesh, Head of ASA FX Research, Standard Chartered, and Aldian Taloputra, Senior Economist, Standard Chartered Bank Indonesia, as well as a keynote speech from Director General of Debt and Risk Management at the Finance Ministry Luky Alfirman.
Looking at the global economy, Standard Chartered is lowering its growth forecast from the previous April projection of 3.4% to 3%, on the back of recession risk in the US and Europe and high inflation trajectories. Cost pressures have risen following Russia's invasion of Ukraine, while supply disruptions have failed to ease significantly.
High inflation is weighing on households and businesses, yet in many economies, the pandemic-related build-up of government debt limits scope for fiscal support to offset spiralling food and energy bills. Similarly, Standard Chartered is also lowering its 2023 global economic growth forecast to 2.9% from previously 3.4%. Squeezed real incomes, the swift removal of policy accommodation, and very weak household and business confidence look set to take growth within the aforementioned area negative in Q4-2022 and Q1-2023.
On the contrary, the Bank foresees an accelerated economic growth in Asia late this year and next, led by China's recovery and a post-pandemic pick-up in services activity and tourism across the region. Standard Chartered is upbeat about Indonesia's economy, raising its 2022 GDP growth forecast to 5.1% from 4.8%, while keeping the 2023 forecast at 5.1%.
Aldian Taloputra, Senior Economist, Standard Chartered Bank Indonesia explained that, "Pent-up demand following the pandemic, and the relative insulation of Indonesia's consumer purchasing power to global energy price shocks, are expected sustain growth in the second half of the year."
"The Bank also expects a more broad-based recovery in H2 – particularly in trade, transportation, manufacturing, and services – as mobility and economic activity improve. Commodity prices are likely to remain high in H2. This is not only positive for Indonesia's economy (especially the mining and commodity processing industries), but it should also provide policy space to support growth through higher fiscal revenue and lead to narrower external imbalances, leading the way for a more stable Rupiah," he noted.
Aldian also believes that the Central Bank will be more modest in managing its policy rates, projecting 25 bps rate increase in both Q3-2022 and Q1-2023, and eventually raising it to 4.0% by end-2023. "The market expects 125 bps more hikes by end-2023. Our below-consensus call reflects our view that inflation will stay manageable amid rising subsidies, Fed hiking momentum will moderate in Q4 as US growth risks rise, and the IDR will stay relatively stable, supported by external balances."
Director General of Debt and Risk Management at the Finance Ministry Luky Alfirman during his keynote speech noted that, "To continue the economic recovery, fiscal policy in 2023 will be focused on 'Increasing Productivity for Inclusive and Sustainable Economic Transformation'".
Luky continued, "In this regard, the government will implement holistic fiscal reforms through revenue mobilization for widening fiscal space, consistently strengthening spending efficiency and effectiveness, as well as continuing to encourage creative and innovative financing development."
Andrew Chia, Cluster CEO, Indonesia & ASEAN Markets (Australia, Brunei & the Philippines), Standard Chartered, said, "We are hopeful that improvement in both growth outlook as well as business sentiment in Indonesia will help spur strong investment during the second half of the year."
During the event, Andrew also reiterated the Bank's commitment towards sustainability initiatives, further echoing the sentiment from Group CEO Standard Chartered Bank Bill Winters during the recent BG20-G20 roundtable session in Bali, that calls for enhanced private-public partnership to achieve Net-Zero transition.
"In line with our strategic initiative to Accelerate Net Zero, a lot of the discussion during the G20 meetings revolved around highlighting that transitions must be just. We also continue to highlight the need for public-private partnership in extraordinary magnitude to mobilise finance and channel funds to financing sustainable transition projects in emerging markets, where they can generate most impact. And to this, we are hopeful to see how committed the nations of the world are towards a just transition," closed Andrew.