IRRI Affirms Commitment to Support Indonesia's Food Security
By : Nata Kesuma | Tuesday, August 16 2022 - 08:30 IWST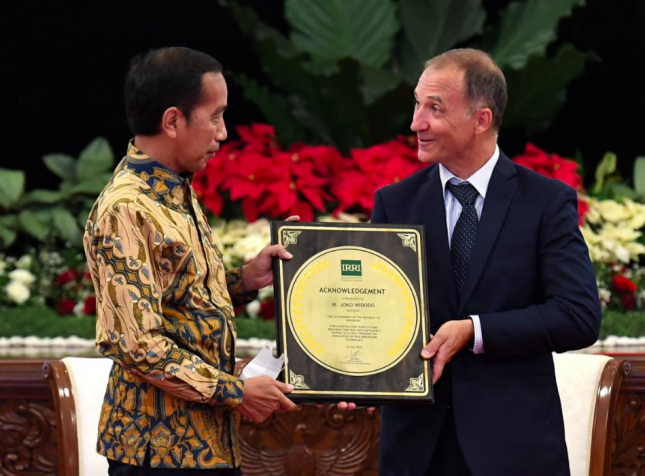 President Jokowi receives an award from Director General of the International Rice Research Institute Jean Balié, at the State Palace, Jakarta, Sunday (08/14). (Photo by: BPMI of Presidential Secretariat/ Kris)
INDUSTRY.co.id - The International Rice Research Institute (IRRI) affirmed its commitment to support Indonesia's food security program.
The statement was made by Director General of the IRRI Jean Balié Sunday (08/14), after bestowing an award to Indonesia for its agricultural system, food security, and rice self-sufficiency during 2019-2021 through the use of rice innovation and technology.
"I am here to directly talk to the President (Joko Widodo) to reaffirm IRRI's commitment to further provide technical support, carry on a fruitful and successful cooperation which have been established over the past decades," he said.
He went on to say that food diversification is crucial to ensure rice supply and provision of food at affordable price for all is vital.
"We also need to address the issue of climate change together, the IRRI is ready to join hands with the Government of Indonesia in facing the challenges," he said adding that Institute has several innovations and knowledge that can be adopted and shared with the farmers and stakeholders.
The IRRI will also provide capacity development to farmers so they can adopt the technology and innovation.
On that occasion, the Director also extended his appreciation to the Indonesian Government for achieving rice self-sufficiency for 2019-2021.
He expressed belief that the award is the outcome of efforts and cooperation from many sides. The efforts will also improve productivity of agricultural sector.
"Ministry of Agriculture has set an ambitious target of 55. 4 million tons (of rice production) next year. We will cooperate with the Ministry to achieve the target and hopefully next year I can return to celebrate other achievement in Indonesia's agricultural sector," he asserted.
In the meantime, Country Director of the United Nations' Food and Agriculture Organization of (FAO) for Indonesia and Timor Leste, Rajendra Aryal, appreciated Indonesia for successfully achieving rice self-sufficiency during 2019-2021 and hoped for more future achievement.
Rajendra also extended the FAO's commitment to continue cooperation on improvement of Indonesia's food security.
In regard to G20 Summit in Bali in November 2022, he has proposed to President Jokowi to allocate time for the FAO's Director to speak before the forum regarding global food security and the country's best practices and achievement.