Indonesia's Road to ESG Goals: Human Capital Development
By : Nata Kesuma | Tuesday, October 18 2022 - 21:58 IWST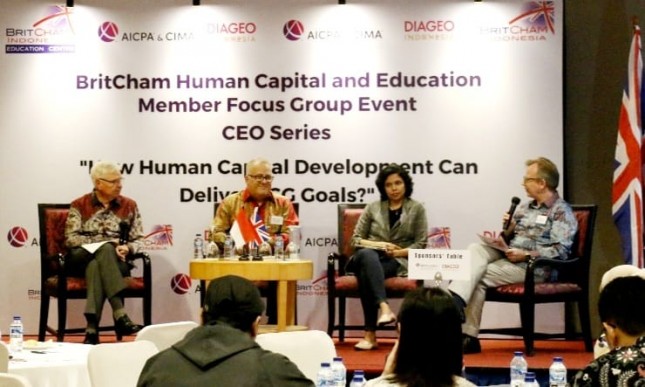 Panelists: Barry Melancon (CEO of The Association of Certified Professional Accountants), Andrew Harding (CEO of The Chartered Institute of Management Accountants), Emme Tarigan (HR Director of Grant Thornton), moderated by Ian Betts
INDUSTRY.co.id - As more organisations focus their attention to lead on societal issues, with more employees looking at a company's social and environment commitment when deciding where to work, itis important for companies to be more than just 'purpose beyond just profit' driven.
With this, efforts to introduce related robust standards, principles, and metrics to value human capital as part of ESG efforts are accelerating. The Sustainability Accounting Standards Board (SASB) and the International Integrated Reporting council (IIRC) announced a merger to consolidate their ESG initiatives by forming the Value Reporting Foundation.
BritCham Human Capital & Education Members Focus Group CEO series featured panel discussions around how companies are leveraging ESG, understanding more about the human capital selection and how leaders can drive ESG agendas through education and training in accountancy.
ESG is growing in significance and importance for corporations. In the global context, top 500 Fortune companies have been pushing out reports on ESG and is becoming a common practice among many organisations, showing transparency to the government, employees and the general public.
Between the three components of ESG, a major part of the growth is driven by the 'environment' component, seen in Indonesia as well, where geopolitical and societal aspects are influencing the path of ESG and corporations. However, the same cannot be said in Indonesia.
According to Emme Tarigan, HR Direcor of Grant Thornton Indonesia "In Indonesia alone, there is a need to create more awareness compared to its counterparts, the US and EU. Most individuals are not aware of its importance yet, hence why the introduction of ESG is the top priority for youths and there needs to be more effort implemented by the government or institutions" explained Emme. Barry Melancon CPA, CGMA (CEO of The Association of Certified ProfessionalAccountants) also added that "ESG is a big motivator for generation Z in to picking where they want to work and they are very conscious on this. Now more than ever, how businesses report and conduct business is a big factor to its human capital and retention".
About BritCham Indonesia:
BritCham Indonesia has long been recognised as the most active foreign Chamber of Commerce in Indonesia. It maintains very close links to both the British Embassy and British Council, as well as collaborating closely with its Indonesian counterpart KADIN and the Ministry for Investment (BKPM).
BritCham is an international membership community of around 1000 whose cross-cutting interests in sustainability are represented by the Climate Change & the Environment, Human Capital & Education and Smart Sustainable Cities Member Focus Groups.
BritCham members are very active within the various committees working towards the success of the G20 and B20 later this year.