Honeywell Ready to Support Indonesia's New Capital City with Sustainability Technologies and Solutions
By : Abraham Sihombing | Wednesday, November 30 2022 - 19:28 IWST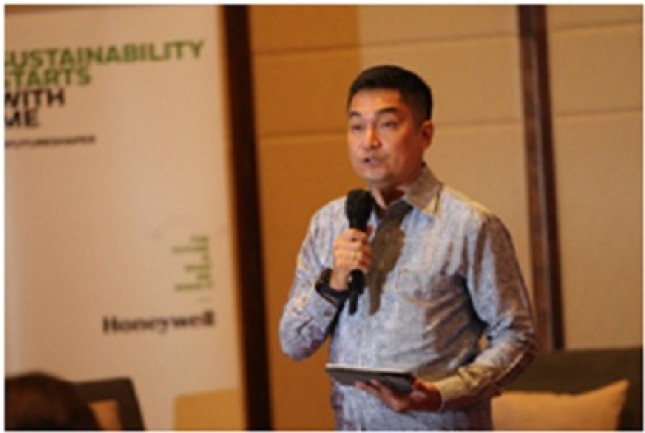 The President Director of PT Honeywell Indonesia, Roy Kosashi, clarified many kind of leading technology for Indonesia's New Capital City, in Jakarta on Tuesday (29/11/2022). (Photo: PT Honeywell Indonesia)
INDUSTRY.co.id - Jakarta - Honeywell announced today that it is Ready Now to support the Nusantara Capital Authority (OIKN) in realizing their goal of making a sustainable and smart forest city. OIKN is the government agency in charge of managing the building of Indonesia's new capital city, NUSANTARA, located in East Kalimantan (Borneo).
Speaking in a discussion forum, Roy Kosasih, Honeywell president for Indonesia and the Philippines, said, "We have communicated our interest to OIKN and we are ready now to support the development of Indonesia's new capital city by providing Honeywell technologies and solutions that can help OIKN develop and manage a sustainable and smart city."
He added, "Honeywell has proven experience in helping cities around the world create a connected, safe, secure, productive, and sustainable urban environment with proven smart city technology. Furthermore, we have a long history of helping Indonesian commercial building developers on their sustainability journey, while also increasing efficiency, safety, security, and comfort in their buildings with Honeywell technologies."
According to the International Energy Agency, commercial buildings currently account for more than 36% of global energy consumption and 37% of global direct and indirect CO2 emissions With the ever-increasing cost of energy and the global pressure to reduce carbon emissions, the development of a new city should start with sustainable buildings.
Honeywell Building Sustainability Manager powered by Honeywell Forge features applications that enable building owners to track and optimize their building's energy performance against carbon reduction goals and measurably reduce their carbon impact and energy use, while maintaining the occupants' well-being and comfort.
With smarter buildings that are managed with sustainability in mind, Indonesia's IKN (new capital city) will be on the right path towards becoming a smart city.
The right technology plays a central role in smart cities, which are built on the foundation of connected, integrated, and automated technologies. In a smart city, city functions are connected in a single web of information flowing from various streams. The product of that integrated web is a holistic urban, data-based information that allows citizens and governments the insight to overcome complex social challenges.
"Using the right technology will bring benefits for a city administration," said Kosasih. "These include better and more efficient energy management, increased public safety with faster and more accurate emergency response, more efficient and effective traffic and transportation management, and highly efficient and effective management of utilities, including waste, water, and enhanced citizen engagement."
The Honeywell City Suite Software, an artificial intelligence enabled IoT platform, integrates data from critical city infrastructure systems such as traffic, streetlights, environment, emergency services, public safety and security, and utilities into a single, unified view. The open architecture of the "Ready Now" solution helps cities connect systems and capabilities to bridge departmental silos, allow budgets to stretch further, and create safer, more resilient communities. The Honeywell City Suite is deployed in 75 cities worldwide, helping to improve more than 100 million lives, and can be scaled by communities to gauge energy consumption across city-owned facilities and utilities.
This includes the new administrative capital city of Egypt where Honeywell is collaborating with the government to build a central command center that will serve as the brain of a digital network for the city. Honeywell has also supported several cities in India, including Rajkot and Faridabad, to turn them into smart cities.
Recently, Honeywell engaged with Accelerator for America, a U.S.-based non-profit organization led by an Advisory Council of mayors, labor and business leaders, and urban and economic development experts, to promote Smart City growth in five U.S. cities to support more resilient, safer and sustainable cities and communities that improve quality of life.
About Honeywell Building Technologies
Honeywell Building Technologies (HBT) is transforming the way every building operates to help improve the quality of life. We are a leading building controls company with operations in more than 75 countries supported by a global channel partner network. Commercial building owners and operators use our hardware, software and analytics to help create safer, more sustainable and productive facilities. Our solutions and services are used in more than 10 million buildings worldwide.
Honeywell (www.honeywell.com) delivers industry specific solutions that include aerospace products and services; control technologies for buildings and industry; and performance materials globally. Our technologies help aircraft, buildings, manufacturing plants, supply chains, and workers become more connected to make our world smarter, safer, and more sustainable. For more news and information on Honeywell, please visit www.honeywell.com/newsroom.***
---