HPN 2023 Commemoration, President: Mainstream Media Must Be Able to Defend the Truth
By : Nata Kesuma | Thursday, February 09 2023 - 21:36 IWST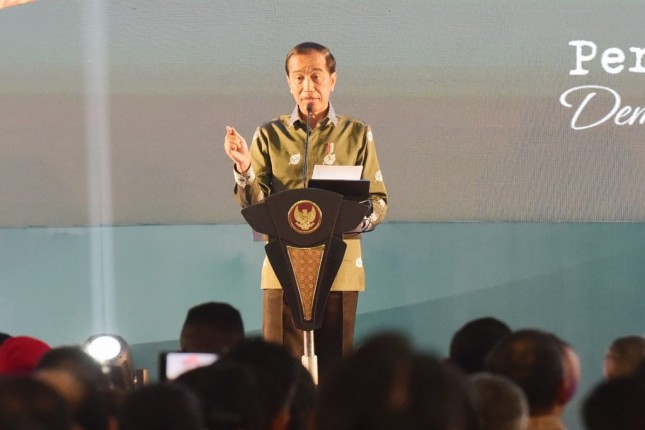 President Jokowi attended the 2023 HPN Commemoration Summit, in Deli Serdang, North Sumatra, Thursday (09/02/2023). (Photo: Public Relations of Setkab/Rahmat)
INDUSTRY.co.id - In the midst of the rapid flow of information through various digital media platforms and social media, the role of the mainstream media is urgently needed to become an information purification house. In addition, the mainstream media must also play a role in presenting verified information and voicing hope for society.
This was conveyed by Indonesian President Joko Widodo (Jokowi) at the Peak of the 2023 National Press Day Commemoration at the Multipurpose Building of the North Sumatra Provincial Government, Deli Serdang Regency, Thursday (09/02/2023).
"In the midst of an atmosphere like this, mainstream media, the mainstream media really needs to be a house for clearing information. It is very important to become a clearing house of information , present verified information, and carry out the role as a communication of hope that gives hope to all of us," said the President.
The President said that the main role of the media is now increasingly important to amplify the truth and uncover facts, especially in the midst of post-truth, post-fact and post-truth ferocity.
"Mainstream media is expected to be able to maintain and maintain its mission to find the truth and build optimism," he added.
Therefore, the President asked all parties, both central and regional government agencies, state-owned enterprises (BUMN), private companies, to non-governmental organizations to support the existence of mainstream media. According to him, the mass media cannot work alone.
"Indeed, in order to exist sustainably, the mainstream media must make innovations, must be adaptive to technology, and take strategic steps. However, the mass media should not be left alone. The government and all stakeholders must provide support," he explained.
Entering the political year, the President also advised the mass media to stick to idealism, be objective, and not slip into polarization. According to the President, the media must encourage the implementation of the 2024 election so that it runs honestly and fairly, and strengthens Indonesia's unity.
"The mass media must remain the fourth pillar of democracy and the main reference for the public in obtaining information," he said.