President Observes SPT Submission Activities at KPP Pratama Surakarta
By : M. Shaqeel | Friday, March 10 2023 - 13:40 IWST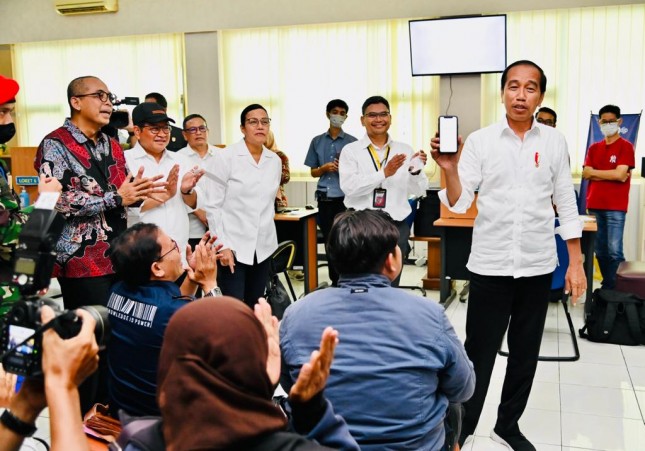 President Jokowi visited KPP Pratama Surakarta, Central Java, Thursday (09/03/2023). (Photo: BPMI Setpres)
INDUSTRY.co.id - Indonesian President Joko Widodo (Jokowi) visited the Surakarta Primary Tax Service Office (KPP), Surakarta City, Central Java, Thursday (09/03/2023) afternoon.
His visit there was to directly check the activity of submitting the 2022 Annual Notification Letter (SPT) by the public.
"I was surprised, there were still a lot of queues even though we can e-Filing from home, online from home, it turns out that the WP (taxpayer) really wants to make sure what is filled in is correct, sometimes I'm not sure then I'm asked here and then paid," said The President in his statement after the review.
The President said that as of March 9, 2023, 6.6 million taxpayers had submitted tax returns. The President considered that this figure had increased compared to the previous year which only reached 5.4 million in the same time period.
"Then it's already 6.6 [million], meaning that there is an increase in people submitting SPT earlier, the community is all enthusiastic about submitting SPT, this is what I'm happy about," he said.
"I myself also submitted SPT via e-Filing last Monday," continued the President.
The Head of State appealed to all taxpayers to immediately submit SPTs until March 31, 2023. The Head of State said that state revenue from taxes would later be used to encourage the development of the homeland.
"We hope that state revenue from taxes can later be used for fuel subsidies, electricity subsidies, fertilizer subsidies, for village funds, for social assistance, for building roads, for building ports, for repairing roads, that's all from the tax revenue we get. he insisted.
Accompanying the President in the review were Minister of Finance Sri Mulyani, Cabinet Secretary Pramono Anung, and Deputy Mayor of Surakarta Teguh Prakosa.