President Jokowi Harvests Rice in Ngawi
By : M. Shaqeel | Monday, March 13 2023 - 06:25 IWST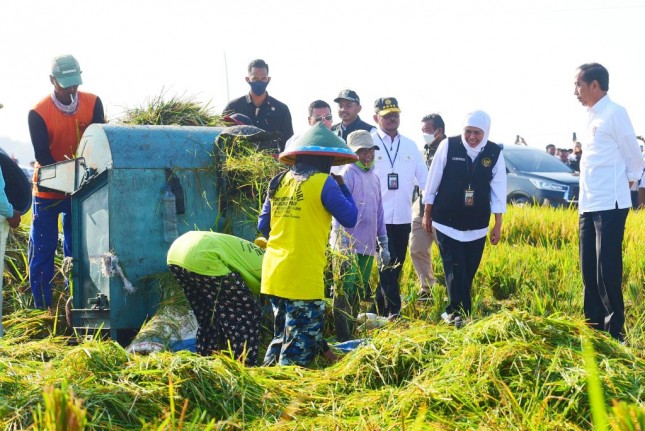 President Jokowi harvests in Ngawi, East Java, Saturday (11/03/2023). (Photo: Public Relations of Setkab/Rahmat)
INDUSTRY.co.id -
Indonesian President Joko Widodo (Jokowi) carried out a Paddy Harvest, in a rice field area in Kartoharjo Village, Ngawi, East Java (East Java), Saturday (11/02/2023) morning.
On that occasion, the President said, each region has different levels of fertility and management so that the agricultural yields obtained are also different.
"After yesterday in Kebumen, we are now participating in the main harvest in Ngawi Regency, East Java Province. I see that there are indeed differences, especially in productivity per hectare. Here, some have reached 10.5 tons per hectare, some have reached 8 tons per hectare, yesterday there it was 5.5-6 [tons per hectare]," the President told media crew.
However, the Head of State emphasized that the government will continue to make efforts to ensure that the price of grain for farmers does not fall during the main harvest.
"Indeed, the price of grain must be determined immediately, don't let the price fall because this is a big harvest everywhere. This is what the [National] Food Agency will announce soon, so that Bulog's purchases become clear. How much is the GKP [harvest dry grain]," he explained.
The President added that the government through the National Food Agency (Bapanas) is currently recalculating the government's basic prices (HPP) for grain and rice so that prices at the level of farmers, traders and consumers are balanced. One component of the calculation, said the President, is the farmers' production costs.
"What is difficult, the government is balancing. Reasonable prices for farmers means that they can make a profit, fair prices for traders mean that traders get profits. Prices for consumers and society are also reasonable. Finding a balance like that is not easy," he said.
At the end of his press statement, the President appealed to all farmers in Indonesia to immediately plant rice again after the harvest.
"I invite all farmers in the country, because the water is still there, there is still rain, after it is harvested, don't give it a break. Immediately the land is processed again, planting again, because the water is still there," he concluded.
Also accompanying the President at the harvest were the Minister of Agriculture (Mentan) Syahrul Yasin Limpo, Cabinet Secretary (Seskab) Pramono Anung, East Java Governor Khofifah Indar Parawansa, and Ngawi Regent Ony Anwar Harsono.