President Jokowi: Papua Youth Creative Hub to Stimulate Creativity of Papuan Youth
By : M. Shaqeel | Wednesday, March 22 2023 - 09:31 IWST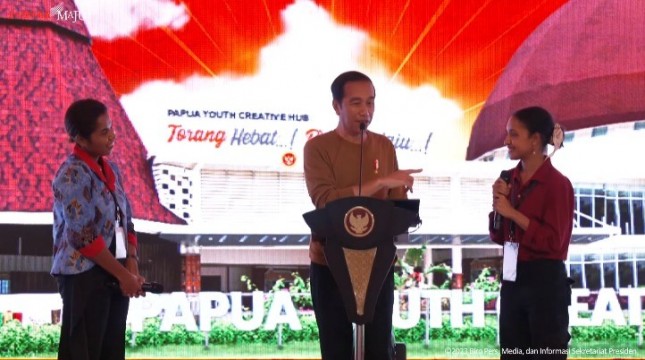 President Joko "Jokowi" Widodo
INDUSTRY.co.id - The newly inaugurated Papua Youth Creative Hub (PYCH) in Jayapura City is expected to provide space for Papuan youths to develop creativity and innovation in various fields, such as fashion, creative industries, animal husbandry and fisheries, President Joko "Jokowi" Widodo has said.
He also said that the existence of this creativity hub can encourage the Papuan people to improve their welfare and achieve progress.
"Everyone has the same opportunity. The opportunity in the land of Papua is still very large for young people. We hope this hub can improve welfare and achieve progress for the people of Papua," said the President at the inauguration ceremony, Tuesday (03/21).
The PYCH project is a follow-up action on a meeting at the State Palace in September 2019 between President Jokowi and a number of young Papuans who have aspirations to improve the quality of human resources in Papua.
"This morning I feel very proud because the Government can realize the request of 23 young Papuans at the State Palace that time to have a space for empowerment, to improve the quality of human resources. Today we can witness the launch of the Papua Youth Creative Hub in Jayapura," he said.
The President also admitted that he was pleased to see the creations and innovations of young Papuan products at the PYCH, ranging from fashion products, music, photography, animal husbandry, fisheries, to application technology.
"They have everything here in the PYCH, from cellphones making, laptops making, podcast studio, music studio, photography studio, and also exhibition of Papua local products with outstanding packaging and branding," he said, adding that the existence of the PYCH is very appropriate to deal with Indonesia's demographic bonus by 2035.
By that time, the Indonesian population will be dominated by productive age in which they need spaces and job opportunities. The President also expressed belief that the presence of the PYCH will spur human resources development in Papua.
"If this continues, young people in other provinces will possibly be left behind by young people in Papua. There are designers for traditional Papuan clothes. They design and color the clothes so that the products are unique and distinct. I was amazed by things here," he said.