President Jokowi Receives PBNU Chairman
By : M. Shaqeel | Saturday, March 25 2023 - 18:51 IWST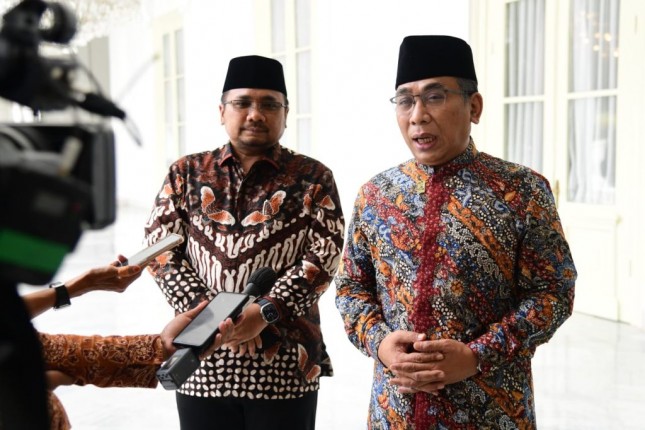 PBNU Chairman Yahya Cholil Staquf accompanied by Minister of Religion Yaqut Cholil Qoumas gives a press statement after meeting with President Jokowi at Merdeka Palace, Jakarta, Friday (24/03/2023). (Photo: BPMI Setpres/Lukas)
INDUSTRY.co.id - Indonesian President Joko Widodo (Jokowi) received the general chairman of the Nahdlatul Ulama Board (PBNU), Yahya Cholil Staquf, at the Merdeka Palace, Jakarta, Friday (24/03/2023).
In his statement after the meeting, Yahya said that the meeting with the President was to report on the strategic plan for following up on the series of NU's centenary commemorations.
"All activities in commemoration of the centenary of Nahdlatul Ulama have been successfully carried out and there are plans for follow-up because all the activities that we carried out in commemoration of the centenary are the starting point for various strategic initiatives going forward," said Yahya.
Domestically, Yahya said that a number of programs in various fields would soon be consolidated into one movement, namely the maslahat family movement. These activities later, said Yahya, would be carried out at the family level as the most basic social unit.
"All of Nahdlatul Ulama's agenda, whether it's the economy, education, health, religion and so on, must be able to be measured by the impact on families. This is what we plan for the future, we have prepared all the elements and the infrastructure, we just need to run it," he added.
Internationally, PBNU will follow up on two international activities, namely Religion 20 (R20) and the International Conference by forming an activity plan on a regular basis and in the long term.
"(To) strengthen, deepen the ideas that appeared yesterday as discourse in these international forums," he added.
In the near future, Yahya said that his party would hold R20 in India which was designed to be held in two cities, namely New Delhi and Jakarta. Apart from that, PBNU will also take advantage of Indonesia's chairmanship at the ASEAN Summit to organize the R20 ASEAN.
"Because in Jakarta the time will be close to the ASEAN forum, earlier we asked permission from the President to take advantage of ASEAN's leverage by naming our activity R20 ASEAN. This is indeed a bit unique, the R20 was initiated from the G20, but now we are holding it within the ASEAN framework, the President agrees," said Yahya.
Also accompanying the President in the meeting was the Minister of Religion Yaqut Cholil Qoumas.