President Jokowi and Vice President Ma'ruf Amin Hand Over Zakat Through Baznas
By : M. Shaqeel | Tuesday, March 28 2023 - 15:41 IWST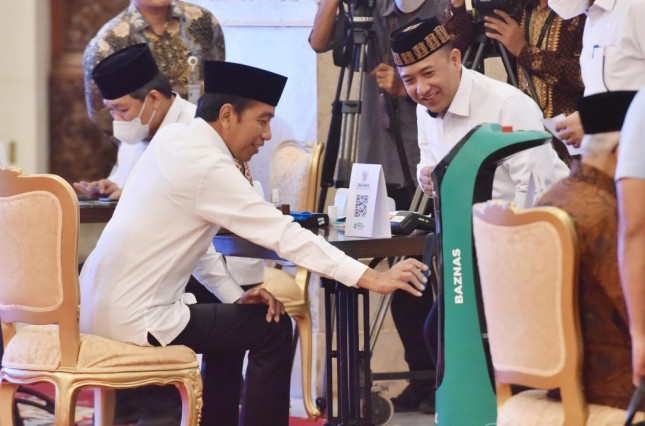 President Jokowi handed over zakat through BAZNAS, Tuesday (28/03/2023), at the State Palace, Jakarta. (Photo: BPMI Setpres/Jay)
INDUSTRY.co.id - Indonesian President Joko Widodo (Jokowi) and Vice President (Wapres) Ma'ruf Amin handed over zakat through the National Amil Zakat Agency (BAZNAS), Tuesday (28/03/2023), at the State Palace, Jakarta.
The distribution of zakat was also attended by a number of Ministers of the Advanced Indonesia Cabinet, heads of high state institutions, heads of state institutions, heads of regions, directors of State-Owned Enterprises (BUMN), representatives of private companies, and public figures.
In his remarks, the Head of State invited the public to pay zakat and increase other acts of worship in the holy month of Ramadan 1444 Hijriah/2023 AD.
"In this holy month of Ramadan we are taught to increase our piety to Allah SWT. not only by fasting, but also by multiplying practices, competing to do good, including spending, giving alms, and also giving tithes," he said.
The President considered that paying zakat is a form of gratitude and gratitude for Muslims for all the blessings that have been given by Allah by sharing sustenance with people in need.
"It is the duty of every Muslim to give zakat as a form of gratitude, a sense of gratitude for all the blessings that have been bestowed by Allah in our lives, with various fortunes and sharing happiness to spend some of our wealth to be given to our brothers and sisters in need," he said.
The President added that the government also continues to strive to reduce poverty, especially extreme poverty, which of course requires support from the whole community.
"The government continues to make every effort to reduce poverty, especially extreme poverty. This endeavor requires the support and participation of all parties, including through the collection and distribution of zakat, infaq, and alms funds by the National Amil Zakat Agency (Baznas)," he said.
The President also appealed to all Muslims, especially state officials, state civil servants, BUMN, and all regional heads throughout the country to fulfill their zakat obligations through Baznas, so that zakat funds can be managed professionally and transparently.
"I order that the zakat funds collected are distributed on target, improve people's welfare, and provide blessings to all of us. Hopefully the zakat we give out will perfect our fasting worship, perfect our piety to Allah SWT," he concluded.
On this occasion, Head of Baznas Noor Achmad MA reported that national collection of Zakat Infaq Alms (ZIS)-Other Religious Social Funds (DSKL) in 2022 reached IDR 22.4 trillion or an increase of 58.03 percent. This increase also occurred in the collection of zakat collected by Baznas.
"The collection of zakat by Baznas RI reached IDR 638 billion or experienced an increase of 22.5 percent. The increased number of collections has also been accompanied by an increase in the number of muzaki, both individual muzaki and body muzaki nationally," said the Head of BAZNAS.