Indonesian Pavilion Enlivens Cairo Supermarket Expo 2023
By : Nata Kesuma | Wednesday, March 29 2023 - 11:45 IWST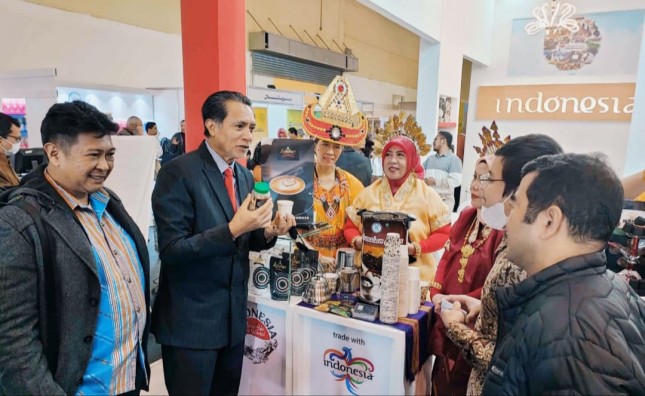 Indonesia participated in the Cairo Supermarket Expo trading exhibition which was held at the Cairo International Convention & Exhibition Center (CICC) Nasr City.
INDUSTRY.co.id - CAIRO, Egypt - From 15 to 21 March 2023, Indonesia participated in the Cairo Supermarket Expo trading exhibition which was held at the Cairo International Convention & Exhibition Center (CICC) Nasr City.
The Expo Supermarket Exhibition displays food, beverage, agricultural and plantation products, household equipment and Ramadhan staple products and was opened by the Egyptian Prime Minister, Mostafa Madbouli accompanied by the Minister of Supply and Internal Trade Trade, Ali Moseli.
Indonesian Ambassador to Egypt, Lutfi Rauf on the sidelines of the opening of the Indonesian Pavilion stated that the supply of Indonesian products is an effort to increase interaction between entrepreneurs and trade-economic cooperation during current global economic conditions.
In 2022, the exports of the two countries recorded a positive increase, with the exports of the main products of Indonesia to Egypt including palm oil products and their derivatives, coffee beans, dried coconut products, wood products, textile products, and processed foods.
The main exports of Egypt to Indonesia include natural gas products, phosphate, dates, potatoes, molasses, and fruits. This shows that Indonesia-Egypt trade and economic relations are complementary, and not competing against each other.
"Through the participation of 13 Indonesian companies at the Supermarket Expo exhibition, there will hopefully be an increase in the variety of quality food and beverage products from Indonesia entering the Egyptian market. The diversity of these products is to encourage the increase in the export value of Indonesian products to Egypt," Said Lutfi Rauf (15/03/2023).
The Ambassador was present at the Indonesian Pavilion, accompanied by the Deputy Chief of Mission, the Trade Attaché, the Economic Affairs Counsellor, and The Information, Social and Cultural Affairs Minister Counsellor, along with the staff of the Indonesian Embassy in Cairo.
The Indonesian Embassy Trade Attaché, M. Syahran Bhakti added that Indonesian products were displayed for 7 (seven) days of the Supermarket Expo exhibition to companies from various regions in Indonesia including CV. Morisama Sejahtera Indonesia 12 with processed tuna and seafood sauce products, CV. Coconut International Indonesia with charcoal briquette products, Nipah tea and sanrego wood herbs, PT. Bunly Abadi with superior products of cashews, CV. Luhur Abadi with Toraja coffee, CV. Elabeauute Kosmetindo Deo Shinko for dermal, armpits & legs skincare, Global Secretariat Gotong Royong ( G2R) Tetrapreneur with a variety of iconic handicraft, food, and beverage products, PT. Andalus Bangun Global, with Robusta and Arabica Coffee products, PT. Ameer Mentaya International Corp with Sasirangan fabric products, braided grass bags, rattan Bags, coal, palm oil, and rice.
There were also companies such as CV Tropikal Indonesia which showed off spices, PT. Kans Agro Indonesia with charcoal briquettes, spices, and tobacco, PT Celexport Pammase International with nutmeg and spice products, and PT. Ayhaga Coco Indonesia with dried coconut products.
In addition, there was a trade representative agent for Indonesian companies in Egypt, namely Egyptian Saudi for Import & Export as an agent for Mayora Indah Tbk which markets instant food and beverage products.
M. Aji Surya, Deputy Chief of Mission in the closing of the Indonesian Pavilion (21/03/2023) explained exports of superior products have become a necessity for MSME businesses, it is hoped that the merchants will continue to create quality and competitive products and expect these potential products to enter the Egyptian market, hand in hand to start exporting in difficult times the global economic recession.
This 48m² Indonesian pavilion also promotes Indonesia's strategic products, natural beauty, and tourism objects, 'Spice Up the World' promotion as well as Indonesia's promotion as partner country of the Hannover Messe industrial manufacturing technology fair and ASEAN Chairmanship 2023 displayed on the big screen.