Processing 43,100 tonnes of Used Plastic Bottles, INOV's Sales Grow 9% In 2022
By : Nata Kesuma | Saturday, April 01 2023 - 11:57 IWST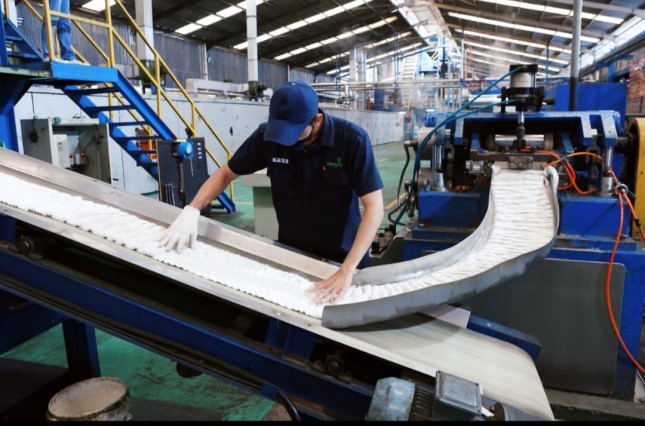 PT Inocycle Technology Group Tbk (INOV)
INDUSTRY.co.id - Jakarta, March 31 2023 – PT Inocycle Technology Group Tbk (INOV), a listed company engaged in recycling plastic bottle waste (PET) into Recycled Polyester Staple Fiber (RePSF), booked sales of IDR 691.53 billion in 2022, growing 9% from IDR 633.30 billion in the previous year.
To achieve this sales growth, in 2022, INOV alone processed 43,100 tons of used plastic bottles or around 3 billion bottles. While its subsidiary PT Plasticpay Teknologi Daurulang in the same year processed 43,220.7 kg of used plastic bottles or a total of 2,666,648 million plastic bottles. During 2020-2022, the Plasticpay has collected and processed 77.2 tons of plastic bottle waste.
Domestic sales, which contributed 90% of the Company's total revenue, grew by 8%, from IDR 574.67 billion in 2021 to IDR 621.71 billion in 2022. Meanwhile, INOV's export sales increased significantly by 19%, from IDR 58.63% to IDR 69.82 billion.
By type of product sold, fiber products still dominated INOV's sales, amounting to IDR 486.23 billion, growing 10% YoY, followed by non-woven products (non-woven) which amounted to IDR 145.06 billion, grew 8% YoY, then homeware and other products which amounted to IDR 60.25 billion, grew 6% YoY.
However, the uncertainty of the global macroeconomic situation in 2022, especially related to exchange rate volatility and rising commodity prices, has forced the Company to bear increased costs which are higher than the increase in sales.
Cost of goods sold increased by 12% to IDR 557.54 billion while operating expenses increased by 17% to IDR 107.51 billion. Finance costs rose 37% to IDR 27.39 billion, while the loss on foreign exchange reached IDR 42.37 billion compared to a foreign exchange gain of IDR 5.47 billion in 2021. As a result, in 2022 the Company booked a loss of IDR 36.39 billion, compared to a profit of IDR 27.32 billion in the previous year.
"In an uncertain situation in 2022 included the outbreak of the Russia-Ukraine war, we should be grateful that INOV can still achieve 9% sales growth. We hope that economic recovery will take a place even faster, so that INOV's performance can be even better this year," said INOV Director, Victor Choi.
The company is determined to continue actively expand to increase production and sales, while increasing efficiency by continuing to build a network of factories as well as places for collecting and exchanging plastic bottle waste in various cities in Indonesia.
Currently, the subsidiary Plasticpay has more than 600 Dropbox points and more than 50 Reverse Vending Machines (RVM) spread across Jakarta, Bogor, Depok, Tangerang, Bekasi, Bandung and Bali.