ALDO Books Sales of IDR 1.40 trillion, Net Profit of IDR 65.76 billion amidst Rising Costs in 2022
By : Nata Kesuma | Saturday, April 01 2023 - 13:40 IWST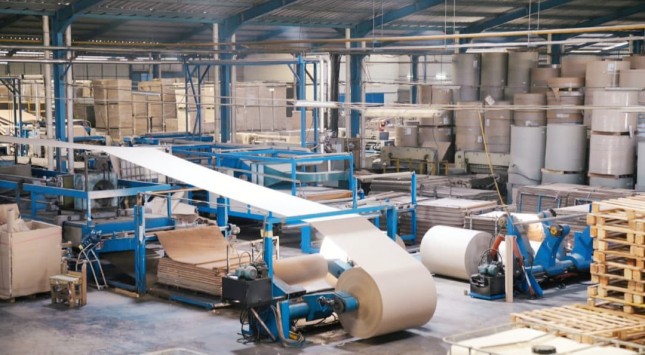 PT Alkindo Naratama Tbk ("ALDO")
INDUSTRY.co.id - Jakarta, March 31st 2023 – PT Alkindo Naratama Tbk ("ALDO"), a listed company engaged in the integrated paper and chemical business, managed to book sales of IDR1.40 trillion and a net profit of IDR65.76 billion amid rising costs that occurred in 2022.
The increase in costs occurred, among other things, related to the purchase of new machines, where the interest expense on purchasing loans has been started to be borne in 2022, and there will be additional workers in 2022 for the installation of new machines at Eco Paper so that employee costs will also increase, while the new machines started operating in February 2023.
"We have implemented efficiencies in various fields to reduce costs. However, due to the installation of the new recycled brown paper processing machine, there was an increase in expenses originating from interest expenses and installation costs including additional labour costs. On the other hand, the decline in the raw material price for used cardboard (OCC) has also affected sales and profitability," said ALDO Main Director, H. Sutanto.
In addition, the Russia-Ukraine war that broke out in early 2022 had an impact on rising fuel prices and weakening the exchange rate of the Indonesian rupiah against the US dollar which also increases the costs that must be borne by the Company.
In anticipation, ALDO has actually made various efficiency efforts so as to reduce the cost of goods sold by 1.5%, as well as general and administrative selling expenses by 1%. Cost of sales was at IDR1.15 trillion, down from IDR 1.16 trillion in the previous period. General and administrative selling expenses were at IDR154.15 billion, down from IDR155.36 billion in the previous year.
However, other operating expenses which jumped 218% and financial expenses which increased 22% made these efficiency measures insufficient to maintain net profit growth.
On the other hand, the volatile economic situation and the decline in the selling price of the Company's paper products have affected total turnover and profitability. The Company's sales which increased by 6% in the third quarter, finally decline at the end of the year so that total sales in 2022 was at IDR1.40 trillion, compared to 2021 which was IDR 1.46 trillion.
Therefore, the Company booked a net profit of IDR65.76 billion in 2022, compared to IDR100.77 billion in 2021. The net profit attributable to the parent entity was at IDR65.30 billion, compared to IDR75.86 billion in the previous year.
Even though the economic situation is still characterized by uncertainty, the Company remains fully committed to continuing to develop green products through green processes in the business it is involved in. In this case, ALDO uses recycled paper produced by its subsidiary, PT Eco Paper Indonesia, to produce various kinds of brown paper products, such as kraft liner, eco board, and core board.
Meanwhile, the operation of new machines for processing recycled brown paper which has higher technology so that they are more efficient, faster and accurate since last February, makes the Company optimistic that it will be able to boost sales significantly.
With the operation of these new machines, ALDO's production capacity of recycled brown paper has increased to 220,000 tons per year, from the previous production capacity of around 80,000 tons per year, or the Company's ability to process used brown paper has increased 2.75 times. Therefore, the Company is optimistic that it can boost sales in 2023 to nearly double.