Indonesian Cuisine, Cultural Performances Enliven Gala Dinner of 43rd ASEAN Summit
By : Nata Kesuma | Monday, September 11 2023 - 09:07 IWST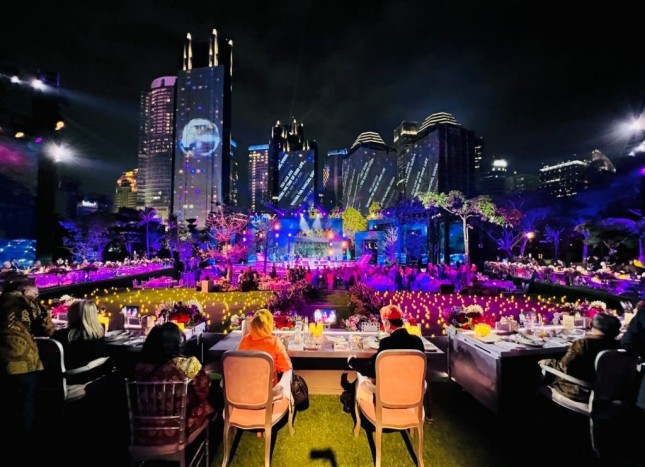 Participants of the 43rd ASEAN Summit enjoy the gala dinner at Hutan Kota GBK in Jakarta, Wednesday (09/06). (Photo by: BPMI of Presidential Secretariat)
INDUSTRY.co.id - President Joko "Jokowi" Widodo and First Lady Iriana Jokowi hosted a gala dinner for leaders of ASEAN member states, partners, and international organizations at Hutan Kota restaurant in Gelora Bung Karno sports complex in Jakarta on the margin of the 43rd ASEAN Summit, Wednesday (09/06).
According to Arnold Poernomo, a celebrity chef who prepared the dishes for the gala dinner, the menu adopted the theme of 'Nusantara the Forest'.
"We already have a theme to find inspirations, 'Nusantara the Forest'. As for the inspiration for each dish, it is up to each team to provide the menu," he said in a video posted on the YouTube Channel of the Presidential Secretariat.
The guests were served with a three-course meal consisting of appetizer, main course, and dessert originating from many regions across Indonesia. There were also special set menus for those adopting vegetarian and pescetarian diets.
Some of the dishes were North Sumatran mud crab salad, Balinese betutu duck tart, lemon basil rice with braised beef short ribs and Javanese rawon (black soup), seabass curry, and Nusantara Urban Forest dessert consisting of chocolate, spiced banana, jasmine apple, and matcha moss.
At the gala dinner, the guests were entertained with art performances in four segments, each having a grand theme. The performances were opened with a performance of Sasando, a string instrument from Rote island, East Nusa Tenggara, and Dira Sugandi singing Mahadaya Cinta.
The first segment adopted the theme of 'The Sound of Indonesia' that illustrates spirit and productivity. This segment presented a percussion show and four Indonesian traditional dances, namely Alu Dance from East Nusa Tenggara province, Bendrong Lesung Dance from Banten province, Dol Dance from Bengkulu province, and Kipas Dance from South Sulawesi province; all of which are dances that celebrate harvest season.
In addition, the dances are also performed to welcome guests, symbolizing that Indonesia is pleased to be visited by the guests.
'The Soul of ASEAN' is the theme of the second segment, which featured 100 dancers performing different traditional dances. The performance celebrated diversity and cultural richness of ASEAN and represented the ASEAN spirit in achieving "One Vision, One Identity, and One Community".
The theme of the third segment is 'The Wave of Tomorrow', which illustrates the shared vision of ASEAN member states to leverage the application of science, technology, and innovation and to realize sustainable development.
In this segment, the guests were entertained with inspirational songs packaged in a performance that showcased future technological advances.
The fourth and last segment adopted the theme of 'The Epicentrum of Growth, which highlighted Indonesia's ASEAN Chairmanship and exhibited the ASEAN vision to be the epicentrum of growth. In this segment, a set of lively songs was performed to illustrate the strength of ASEAN. (SLN/2023 ASEAN Summit Communication Team and Media/UN) (DH/MUR)