President Jokowi: Korpri is a big force that determines the nation's progress
By : M.shaqeel | Wednesday, October 04 2023 - 08:40 IWST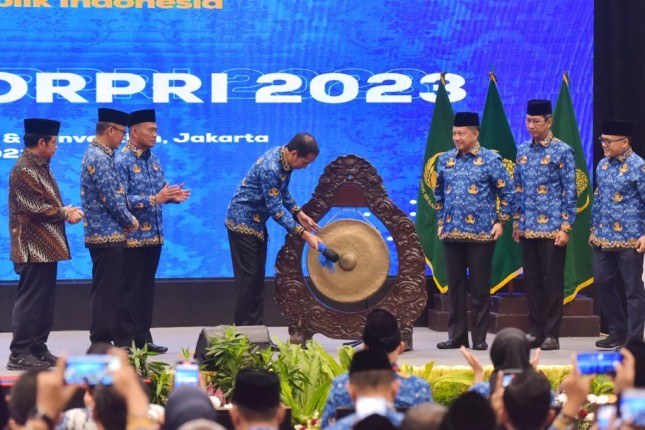 President Jokowi opened the 2023 Korpri National Working Meeting, in Jakarta, Tuesday (03 /10/2023).
INDUSTRY co.id - Indonesian President Joko Widodo (Jokowi) emphasized that with 4.4 million members, the Indonesian Civil Service Corps (Korpri) is a major force determining the nation's progress.
The President conveyed this when inaugurating the 2023 Korpri National Working Meeting (Rakernas), Tuesday (03/09/2023), at the Mercure Hotel, Ancol, Jakarta.
"There may be many parties, but the one who implements it is still Korpri because it is Korpri who runs whatever is in the government," said the President.
The President likened bureaucracy to an engine that drives government vehicles. Therefore, we need a machine with strong power, efficiency and adaptability to global changes and challenges.
"It doesn't get hot easily, it gets hot, but it stays cool, which is what is needed now, and it is resilient, because the world is changing almost every day," he said.
On this occasion, the President also conveyed the Indonesia-centric development that is being carried out by the government for the sake of economic equality in society. Currently, the Indonesian economy is centered on the island of Java with a contribution to national gross domestic product (GDP) reaching 58 percent.
&ldquo We need Indonesia centric, not Java centric, so we need equality, we need equity. Moreover, Jakarta, Java alone is like that, let alone Jakarta, it is so dense, the problems are so very complex. "Because business is here, the economy is here, education is here, tourism is here, everything is in Jakarta," said the President.
The development of the Indonesian Capital City (IKN) in East Kalimantan is one of the government's efforts to encourage this equality. The President said that the government had prepared various facilities and incentives for state civil servants (ASN) who would become residents of the IKN.
&ldquo This is a new future and incentives have been prepared. If you don't have this, it's tough for sure, but if there's an incentive it's different. "There are also official residences, landed houses and apartment houses, moving costs are also provided for husband and wife plus children, there are expensive allowances and other facilities," he stressed.
Also present at this event were, among others, Coordinating Minister for Human Development and Culture (Menko PMK) Muhadjir Effendy, Minister for Administrative Reform and Bureaucratic Reform (PANRB) Abdullah Azwar Anas, Minister of Home Affairs (Mendagri) Tito Karnavian, Cabinet Secretary (Seskab ) Pramono Anung, Acting Governor of DKI Jakarta Heru Budi Hartono, and Chairman of the Korpri National Management Board Zudan Arif Fakrulloh. (TGH/UN)