Jababeka, Voltron and EV Car Community Celebrate World EV Day in Cikarang
By : Nata Kesuma | Friday, October 06 2023 - 08:00 IWST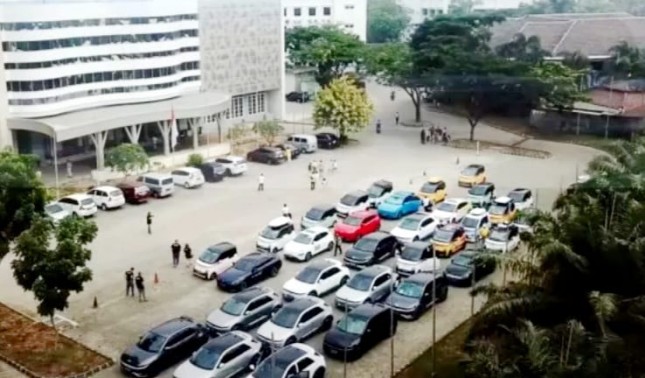 celebration of World EV Day 2023
INDUSTRY.co.id - Cikarang – A total of dozens of electric cars gathered at Hollywood Junction Kota Jababeka to celebrate World EV Day which is commemorated every September 9.
World EV Day is a global movement and celebration of mobility to transform the transition to environmentally sustainable transportation with users, businesses, and policymakers.
As one of the pioneers of sustainable development in Indonesia, PT Jababeka Tbk (Jababeka) continues to be committed to supporting initiatives and technologies that support a better environment. In celebration of World EV Day 2023, Jababeka together with various electric vehicle communities held a series of events and activities aimed at increasing public understanding and interest in electric vehicles sustainable mobility and environmental conservation.
"World EV Day is not only a celebration but also an important moment to celebrate the advancement of electric vehicle technology and remind us of our responsibility to the surrounding environment. Jababeka has previously made a number of efforts and the company's commitment to environmental conservation by collaborating well with the government, tenants, and related communities. Of course, it is not easy, it takes cooperation and joint movement." Said Suteja S. Darmono President Director – PT Grahabuana Cikarang, as the manager and developer of Kota Jababeka Cikarang.
Jababeka has recently declared the Net Zero Industrial Cluster Community at the closing of Jababeka Eco Summit 2023 as a concrete step in reducing carbon emissions to overcome global climate change problems.
The events held on World EV Day include an electric vehicle exhibition, Kota Jababeka city tour, a sharing session, green commitment action Jababeka, and Voltron. This celebration also aims to raise public awareness of the importance of protecting the environment in small ways that can be done by each individual to reduce environmental impact.
Jababeka is committed to helping realize Indonesia's vision of achieving carbon neutrality by 2060. One of the concrete actions taken by Jababeka is to declare an ambition statement with three of its tenants with a carbon-neutral target by 2050, and the Jababeka-Cikarang Industrial Estate joined the World Economic Forum (WEF) network as The First Net Zero Industrial Cluster in South East Asia at the G20 – B20 Summit, last November 2022.
The first step as proof of Jababeka's commitment to Net Zero Cluster is the inauguration of a Rooftop Solar Power Plant (PLTS) at the Water Treatment Plant (WTP) in the Jababeka Industrial Estate.
"Jababeka has always dedicated itself to being a pioneer in supporting sustainable development in Indonesia. We believe that electric vehicles are one of the best solutions to reduce carbon emissions and safeguard our precious environment. Therefore, we feel very proud to be able to host this event and share knowledge and inspiration with all participants," added Suteja.
This year's World EV Day in Jababeka will be a source of inspiration for many people and organizations to switch to electric vehicles and strengthen their commitment to sustainable mobility.
Meanwhile, Andrian General Manager of Voltron said that the World EV World Day event held with Jababeka and in collaboration with the EV club community Collection, WEVI & HIVE became a real action if electric vehicles or EVs, more than just a means of transportation. According to Andrian, EVs are a symbol of our commitment to a cleaner, greener, and more sustainable world.
"Especially our collaboration with Jababeka, with the signing of the MoU, of course, Voltron will expand the SPKLU network throughout the Jababeka group area so that it can provide convenience to EV users," explained Andrian.
"We will not stop here, in line with our commitment to expand our charging station network nationwide, then we will continue all our good performance to continue to be the "Leading Charging Network" in Indonesia," said Andrian.
Arwani as Chairman of the Indonesian Electric Car Community (Collection) who participated in this event said, the World EV Day activity initiated by Jababeka, Voltron, and in collaboration with the community is a positive activity as a reminder that our Earth needs to be preserved, one of which is with electric cars.
"We are very grateful to Jababeka for facilitating to hold World EV Day, we hope this collaboration can continue with the EV community, especially in the Jabodetabek area. So, both the collection community and other electric car users can continue to interact with developers or venue providers in the future," said Arwani.