Delivering a Public Lecture at Stanford University, the President Discusses Efforts to Realize the Energy Transition
By : M.shaqeel | Thursday, November 16 2023 - 14:10 IWST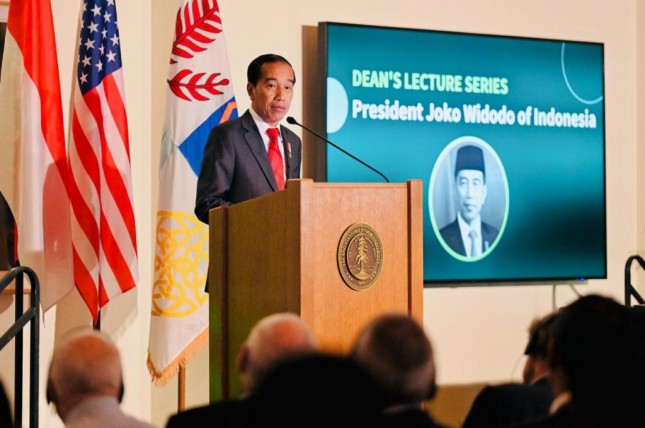 President Jokowi delivered a public lecture at Stanford University, San Francisco, United States, on Wednesday (15/11/2023). (Photo: BPMI Setpres/Laily Rachev)
INDUSTRY co.id - Indonesian President Joko Widodo (Jokowi) said that collaboration and strategic steps are very important and needed to face the impacts of climate change which are increasingly threatening at this time.
This was conveyed by the President when delivering a public lecture at Stanford University, San Francisco, United States, on Wednesday (15/11/2023).
"In facing the impact of climate change which is increasingly threatening today, collaboration is very important and concrete strategic steps are needed, without which it is impossible for us to guarantee sustainability and the only earth we love," said the President.
The President explained that climate change and the energy transition are very urgent matters in a world that is not doing well. Therefore, the President firmly stated that Indonesia has taken a role and is committed to overcoming this problem.
&ldquo For Indonesia, there is no need to hesitate and there is no need to question our commitment. "Indonesia walks the talk, not talks the talk ," he added.
The Head of State also explained that to date Indonesia has succeeded in reducing emissions by 91.5 million tonnes. This was followed by Indonesia's deforestation rate until 2022 having been reduced to 104,000 hectares.
"Then the forest area was also rehabilitated covering an area of ​​77,000 hectares, mangrove forests were restored covering an area of ​​34,000 hectares in just one year," he continued.
However, President Jokowi considers that currently there are still big challenges for Indonesia and other developing countries to carry out energy transition, especially in technology transfer and funding.
"This is a challenge and often makes things difficult for developing countries, therefore Indonesia wants to ensure that the energy transition also produces energy that is affordable for the people," said the President.
Furthermore, the President assessed that the climate funding that should be provided to developing countries to implement the energy transition should be more constructive in nature, not just burdened as debt.
"Until now, what is called climate funding is still business as usual, still like commercial banks. "In fact, it should be more constructive, not in the form of debt which will only increase the burden on poor countries and developing countries," he said.
Apart from that, on this occasion, President Jokowi also explained a number of efforts that had been made by Indonesia in carrying out the energy transition. The President said one of them was through the construction of a floating Solar Power Plant (PLTS) which had just been inaugurated at the Cirata Reservoir, West Java Province.
"This is the largest in Southeast Asia, we have just opened a solar power plant with a capacity of 192 megawatts," he said.
In the future, the President said that Indonesia will continue to do similar things to protect the environment and carry out an energy transition. As will be implemented in the Indonesian Capital City (IKN), which will become a forest-based smart city which will later be said to use green energy from the sun and water.
"And so that you know that the first thing we build when we are going to build the capital city of the archipelago is to build a nursery center, build a botanical center with a capacity of 15 million tree seedlings per year, which we will later plant every year in the capital city of the archipelago and in "Kalimantan Island," he said.
Therefore, the Head of State said that in the future it would be a good idea if Stanford University students could have the opportunity to visit IKN and see firsthand the development process and progress there.
" Maybe there you can do quick research and learn about the sustainability side of building a green city ," he said. (BPMI SETPRES/AIT)