Lenovo Enhance Collaborative Gaming Performance Corsair and Asetek
By : Nina Karlita And Aldo Bella Putra | Friday, August 25 2017 - 15:01 IWST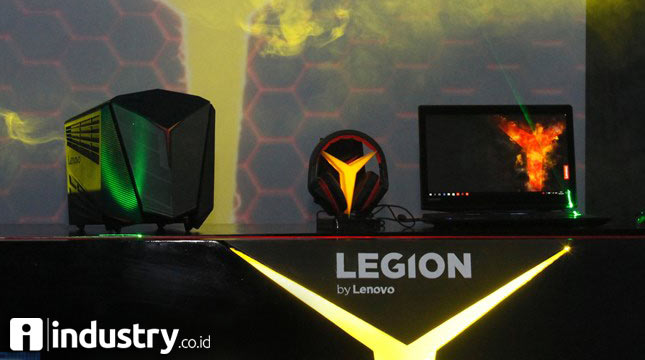 5166
INDUSTRY.co.id - Lenovo, one of the world's leading PC brands, is exhibiting collaboration with CORSAIR, a peripheral manufacturer and American computing hardware, and Asetek, a provider of liquid cooling CPUs and GPUs for high-performance data centers, servers, workstations, and gaming and PCs , In a series of 2017 gamescom event in Cologne, Germany.
This collaboration is proof of Lenovo's seriousness to continuously improve the quality of its gaming products and provide a unified or immersive gaming experience to its users.
Through exclusive OEM cooperation with CORSAIR®, Lenovo is keen to provide overclockable memory in Lenovo PC gaming. Delivering CORSAIR's expertise in creating memory components with Lenovo's high-performance Lenovo gaming PC design, Lenovo and CORSAIR strengthen Lenovo Legion Y920 Tower with overclockable DDR4 memory from CORSAIR VENGEANCE LPX, adding to the speed and performance of the tower.
Lenovo Legion Y920 Tower is Lenovo's first product in collaboration with CORSAIR, and will continue with other products to provide the ultimate gaming experience to gamers.
"The gaming community tells us that they want a fast and powerful machine. That's why we use an overclockable CORSAIR memory to include each preform of the Lenovo Legion Y920 Tower, and deliver faster system responses and higher memory bandwidth to maximize game performance," said Budi Janto, Country General Manager of Lenovo Indonesia.
"We also understand that gamers always want to explore programs with a high level of complexity to create and share their own content, which can be helped by overclockable memory. Whether playing the latest games, streaming gameplay, or unifying montage, the Lenovo Legion Y920 Tower with overclockable DDR4 memory from CORSAIR VENGEANCE LPX can meet those needs."
Not only with CORSAIR, Lenovo also shared footage of the collaboration with Asetek in completing the Lenovo Legion Y720 Tower with the trusted, noisy, and integrated cooling system from Asetek.
By combining overclocking with this liquid cooling system, gamers can overclock on the CPU to get better graphics, improve frame rate stability, smoother gameplay, less noise and motherboard pressure, and more reliable PC components.
In terms of engine, liquid cooling function of Asetek is similar to car radiator. The liquid relieves heat from one area and brings it to the heat exchanger. Typically, liquid cooling is a complicated technology in the presence of liquids, tubes, and blocks, so treatment is often difficult.
The discovery of closed loop cooler from Asetek makes liquid cooling more reliable and does not sacrifice performance. This impact on higher CPU cooling performance, better acoustics, and extra protection for components in Lenovo Legion Y720 Tower for hardcore gamers.
Lenovo Legion Y720 Tower is the first product to apply this liquid cooling system from Asetek and also use CORSAIR overclockable memory. It is a form of Lenovo's commitment to provide a powerful and unified gaming PC experience to gamers, through a collaborative approach with gamers.