Solid Performance, PT Perusahaan Gas Negara Gives Profit of Rp 670 Billion
By : Herry Barus And Aldo Bella Putra | Saturday, September 02 2017 - 23:00 IWST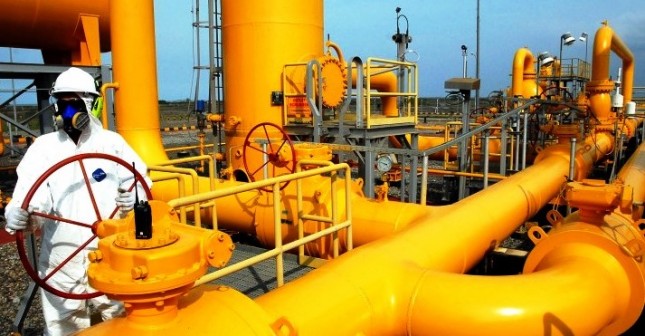 PT Perusahaan Gas Negara (Persero) Tbk (PGN)
INDUSTRY.co.id - Jakarta, PT Perusahaan Gas Negara (Persero) Tbk (PGN) showed a positive performance while still generating profits for the company, amid a slowdown in the global and regional economies that have an impact on the decline of domestic natural gas demand.
Throughout the first half of 2017, PGN posted net revenues of US $ 1.41 billion. PGN also posted a gross profit of US $ 378 million. The revenue of the PGAS-coded issuer is mainly derived from the contribution of natural gas distribution revenues of US $ 1.16 billion and oil and gas sales of US $ 212 million.
Meanwhile, PGN's operating profit in Semester I-2017 amounted to US $ 176 million while net income of US $ 50 million or Rp 670.3 billion (average rate of 6 months in 2017 amounting to Rp 13,329 / US $). The EBITDA until Semester I-2017 amounted to US $ 423 million.
"This year is a challenging year for PGN, mainly due to the impact of the still slowing global economy and the adjustment of gas prices to the industrial sector as a form of PGN's support to the growth and competitiveness of national industries," PGN Corporate Secretary Rachmat Hutama said in a release received by the editors, Sunday (2/9).
During the period from January to June 2017, PGN manages natural gas of 1,470 million cubic feet per day (MMSCFD). In detail, the volume of distribution gas is 749 MMSCFD and transmission of 721 MMSCFD contributed by PGN and subsidiaries of PT Transportasi Gas Indonesia (TGI) and PT Kalimantan Jawa Gas (KJG).
Rachmat said, in line with the government's efforts to boost the national economy, PGN is optimistic that the company's performance will also improve. Despite slowing economic conditions, PGN continues to develop its natural gas infrastructure to expand the utilization of natural gas for the community.
PGN will remain aggressive in building a national natural gas infrastructure to increase utilization of national gas production. In the first half of 2017 PGN's gas pipeline infrastructure grew by more than 59 kilometers (km) and currently reaches more than 7,337 km or equivalent to 80% of national downstream natural gas pipelines.
A number of projects have been completed by PGN on time, such as gas distribution project to Paya Pasir gas power plant in Medan, gas supply in Semare Pasuruan, gas distribution to PT Indonesia Power Tanjung Priok and Mother Love's program for gas distribution to Household.
PGN also completed the Muara Karang - Muara Bekasi network development project, providing gas for industrial and commercial customers in Medan, Batam, Lampung, Jakarta, Tangerang, Cilegon, Bogor, Bekasi, Karawang, Cirebon, Surabaya, Pasuruan, Sidoarjo.
Currently PGN is working on the development of infrastructure projects such as Dumai Distribution, Duri - Dumai Transmission, Gresik - Lamongan - Tuban network development, network development in Pasuruan, Senayan City - Pondok Indah Mall development, industrial area in Bekasi and Tangerang.
"In the midst of many business challenges today, PGN remains committed to build and expand national gas infrastructure," said Rachmat.
To date, PGN supplies natural gas to 1,659 large industries and power plants, 1,928 commercial customers (hotels, restaurants, and hospitals) and SMEs, and 170,094 households. PGN's customers are spread in various regions ranging from North Sumatra, Riau Islands, Riau, South Sumatera, Lampung, DKI Jakarta, West Java, Banten, Central Java, East Java, North Kalimantan and Sorong Papua.
PGN also manages and distributes natural gas for transportation to 10 Gas Fuel Filling Stations (SPBG) and 4 Mobile Refueling Units (MRU). PGN also operates 2 Floating Storage Regasification Units (FSRU) in West Java and Lampung.
This year, PGN also made many breakthroughs such as the 360 ​​degree solution program. In this program, PGN can deliver natural gas from upstream to downstream according to the needs of the community in various segments of gas users.
PGN owns Saka Energy, which provides natural gas in the upstream sector, PGN develops natural gas product Liquefied Natural Gas (LNG) by PT PGN LNG Indonesia, distributes CNG through its subsidiary PT Gagas Energi Indonesia, through other PGN subsidiaries, PGN can provide gas supply, electricity, gas fuel supply for transportation to Engineering, Procurement and Construction (EPC) services to Communication Technology Information for gas users or PGN customers.