Perum Jamkrindo Provides Amartha's Customer Guarantee
By : Hariyanto And Aldo Bella Putra | Monday, September 04 2017 - 21:00 IWST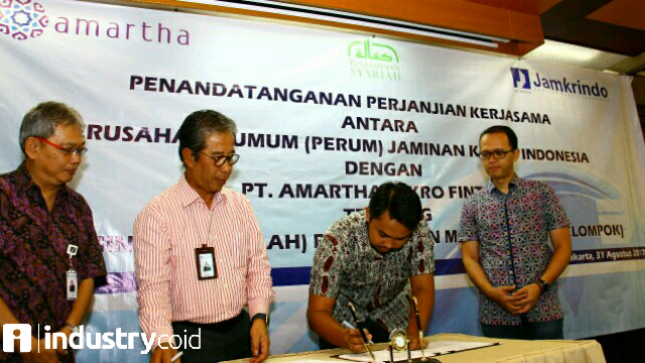 Perum Jamkrindo Berikan Penjaminan Nasabah Amartha
INDUSTRY.co.id - Jakarta - Perum Jamkrindo and PT Amartha Mikro Fintek for guarantee (Kafalah) working capital financing (group) for micro entrepreneurs. This cooperation is the first to be performed for technology-based financial services or financial technology (fintech).
The signing was done at Jamkrindo Perum Office on Thursday, August 31, 2017 by Director of Guarantee Business of Bank Perum Jamkrindo Bakti Prasetyo and President Director of PT Amartha Mikro Fintek Andi Taufan Garuda Putra witnessed by Director of Finance, Investment and Risk Management I.Rusdonobanu and Vice President PT Amartha Mikro Fintek Aria Widyanto .
Bakti said that Perum Jamkrindo as the only state-owned company engaged in guarantee for the first time to make a guarantee for companies that provide services Peer to peer (P2P) Lending. "This is our first partnership for the Finteck industry, hopefully this will benefit both sides," he said.
Bakti explained that Perum Jamkrindo has several products that become the mainstay, besides the assignment for Credit Guarantee Program for People's Business (KUR), there are other products that are general credit guarantee, micro credit guarantee, bank guarantee / counter guarantees, credit guarantee construction and procurement of goods / services, guarantee of goods distribution, multipurpose loan guarantee, surety bond, credit guarantee of BPR / BPRS, mortgage loan of KPR Sejahtera FLPP, customs bond, cargo agency guarantee, and guarantee of invoice financing.
Perum Jamkrindo also continuously strives to improve its performance through various strategic initiatives, including expanding its network through the addition of branch offices and service offices. Currently, the company's branch office has reached 56 branches and 14 service offices.
For business reliability, the company also implements integrated IT systems in order to improve the effectiveness of business process bags to support operational activities. The next initiative is to optimize the operational network by setting organization standard, business target, display and classification of work units to be implemented in all branch offices of Perum Jamkrindo.
Recently, Perum Jamkrindo also launched a new service owned by the company, call center services to get product inflation and to communicate with Customer Service Representative. For call center services, Jamkrindo partners and customers can contact 1500701 so that the role of MSMEs can be further improved.
Perum Jamkrindo in 2017 remains committed to conduct credit guarantee / financing of SMEs with a target of Rp. 146 Trillion (Consolidated) or an increase of 16 percent from the achievements of 2016.
At this opportunity, Taufan said Amartha as an information technology-based lending and borrowing service provider that provides, manages and operates an Information Technology-based lending and borrowing service. He hopes this cooperation can encourage more progress of micro business actors in Indonesia.
PT Amartha Mikro Fintek has been officially registered at the Directorate of Institutional and Product IKNB (Financial Industry non Bank) Financial Services Authority (OJK). Amartha provides Peer to Peer (P2P) Lending service and has been established since 2010.
P2PL business activities by fintech companies are currently shaded by POJK Regulation No. 77 / 01-2016 concerning Information Technology Borrowing and Borrowing Services in December 2016. With the decision, Amartha hopes to increase public confidence in investing.
Until 2016 Amartha has successfully bridged over 34,000 micro business actors across Indonesia to over 10,000 registered investors, with total funds distributed up to 100 billion Rupiah.
To strengthen the development of P2PL business developed by Amartha to microeconomics and to increase investor confidence, on Thursday August 31, 2017 PT Amartha Mikro Fintek cooperated with Perum Jamkrindo BUMN UMKMK Financing Guaranty which is also the First Guarantee Company which has pocketed license from OJK to do business activities of P2PL Guarantee.