Perum Jamkrindo Guarantees Investree Financing Investment
By : Wiyanto Dan Aldo Bella Putra | Tuesday, October 03 2017 - 19:30 IWST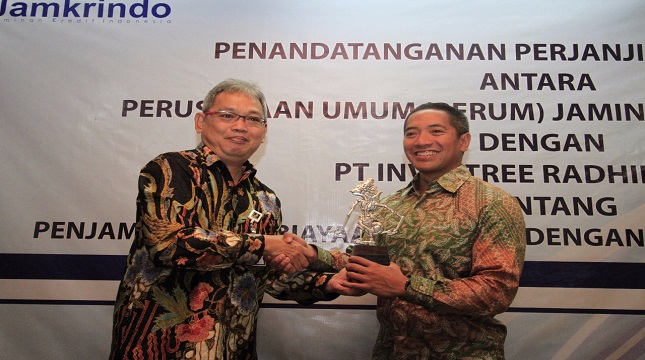 Plt Direktur Utama Perum Jamkrindo I. Rusdonobanu kiri.
INDUSTRY.co.id - Jakarta - Perum Jamkrindo (General Company of Credit Guarantee Indonesia) tackles the financing of receivables or invoice financing from PT Investree Radhika Jaya, under a peer to peer lending scheme. This strategic collaboration aims to mitigate the risk of default and realize the benefits of technology presence in the financial industry for lenders or lenders in order to empower for Micro, Small and Medium Enterprises (MSMEs) in Indonesia.
"The signing of Jamkrindo cooperation agreement with Investree is one form of support for the development of financial technology, especially peer-to-peer lending in Indonesia. We recognize that financial technology is a digital innovation that has a big impact on the growth of UMKM sector and is able to provide financial support for unbankable society in order to become bankable in this modern era, so we are very enthusiastic to participate in this," said I. Rusdonobanu as Plt. President Director of Perum Jamkrindo in Jakarta, Tuesday (3/10/2017).
In addition to continuing to develop guarantee products on credit channeled through financial technology, Perum Jamkrindo is the only National Guarantee Company appointed to guarantee KUR aimed at developing UMKM and Cooperatives, as well as Warehouse Receipt Guarantee Institution.
On the other hand, Co-Founder & CEO of Investree Adrian Gunadi, said, "We are pleased and welcomed the cooperation with the leading guarantee company, Perum Jamkrindo. It is hoped that this collaboration will increase people's trust and loyalty to financial technology and peer-to-peer lending services so that Investree can freely develop innovations to deliver the best products and services in order to realize real financial inclusion in Indonesia."
"Building public trust requires a strategic commitment. Besides through the implementation of transparency and maintenance of consistent products and services, in achieving that, we also need to establish a guarantee system. The goal is for people to feel safe and comfortable in making investments and transactions in Investree," said Adrian.
Until now, Investree's ratio of default is still at 0% with total loan disbursement of Rp 258 billion. "In relation to this, we are committed to continuing to maintain these achievements in order to keep our investment credit risk exposure to good parameters or positions. We also hope that if the commitment continues to be maintained, more and more people will be educated about financial technology and peer-to-peer lending, and then investing actively in our platforms so that individuals and UMKM will be more prosperous. We are optimistic that cooperation with Jamkrindo will not be limited to this product, but will grow along with the growth of business models and trends, one of which is the provision of host-to-host system for the process to be short and easy but still safe."