Fuse Achieved More Than Usd 200 Million Of Gwp and 150 Million Policies For 2022
By : Nata Kesuma | Wednesday, March 22 2023 - 06:55 IWST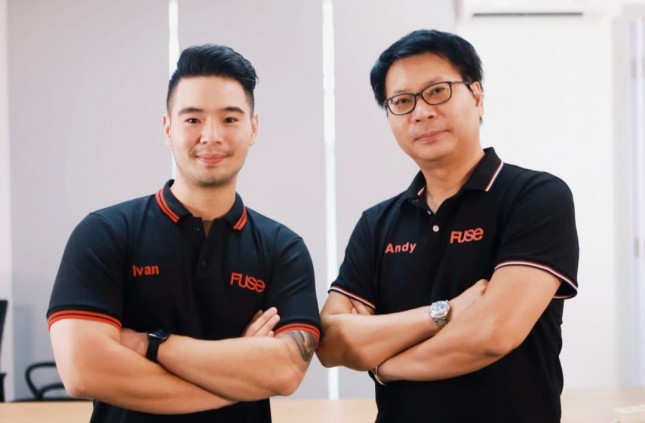 Founder dan Chief Executive Officer (CEO) Fuse Andy Yeung (right) and COO Fuse Ivan Sunandar.
INDUSTRY.co.id - Jakarta - During the Grand New Office Opening event on 17th March, 2023, insurtech company Fuse announced more than 150 million policies, with GWP exceeding USD 200 million (IDR 3 trillion) being achieved in 2022.
In terms of GWP and policies, it represents more than 200% and 360% growth when compared to 2021.
Fuse is the first Insurtech company in Indonesia that pioneered the agent-focused model (B2A2C) to bridge the trust deficit between insurance companies and customers. There are more than 100,000 agent/ broker partners that use Fuse Pro to handle their insurance application, claim for their customers, as well as their own downline management and commision disbursement.
For B2B2C, Fuse has worked with multiple digital/ e-commerce channels like Tokopedia, Grab, etc. Fuse also is the only insurtech being selected and appointed by Tokopedia since 2021, to handle and support all kinds of general insurance during the customer journey in Tokopedia.
"Our ISO certified mobile technology platform is secure and scalable, which can handle a high volume of transactions and data. Being the first mover as an "ecosystem play", we operate a few business models like B2A2C, B2C and B2B2C in parallel. That's how we can achieve our sustainable growth in the past few years and hence generate more than 150 million policies with GWP of more than USD 200 million in 2022. Behind all these impressive numbers, we are really thankful for having many insurance companies (especially Titanium insurance partners), channel partners, investors and agent/ broker partners, together with our dedicated teammates, provide us their best supports and help whenever we are in need," Founder & Chief Executive Officer (CEO) of FUSE, Andy Yeung, shared during the Grand New Office Opening event.
With the vision to make insurance affordable to everyone in Southeast Asia, Fuse has already expanded to have operations in Vietnam, Thailand and Malaysia, and will continue to cover more countries in 2023.
"We see many people in the region still under-insured and we genuinely hope more people can get protection from insurance. We are committed to deploy technology to enable every stakeholders like insurance companies, channel partners and agent/ broker partners in the ecosystem, and we are actively exploring the latest technology, such as AI, blockchain, big data analysis, to further automate the insurance underwriting and application processes, as well as claims," Andy said.
Fuse officially opened a new headquarter on 17th March, 2023, featuring an open workspace with more than 3,600 meter square, to create an agile work environment, as well as providing their agent/ broker partners a place to gather. This new headquarter is strategically located in the Jakarta business center, making it easier for customers and agent/ broker partners to meet and do business.
"When the Covid-19 pandemic started in 2020, we postponed moving to a new office and used the budget to ensure all employees were well-covered by health insurance, such that all Fuse teammates are protected with insurance and they can have a peace of mind during the past three years. As pandemic is no longer a major concern, we see more and more teammates start working in office, and an easily accessible work location and a flexible work space will be something important. On top of that, our new office is aimed at facilitating our agent/ broker partners to have a gathering place, such that they can recruit and train more downline to popularize insurance. Once again, investment into our new headquarter is our commitment to our agent/ broker partners, as well as our teammates," Andy concluded.
About Fuse
Founded in 2017, Fuse is a pioneer in deploying mobile technology platforms to revolutionize insurance distribution channels for improving efficiency and experience to end-customers. We launched our first-of-its kind mobile app Fuse Pro to "enable" agent/broker partners for closing insurance policies instantly and easily with their customers.
We are also the first mover on supporting digital/ e-commerce channels like Tokopedia for launching their first transactional top-up micro insurance product back to 2018, and being officially appointed as their strategic insurtech partner since Q3 2021 for supporting all general insurance products onwards. We have more than 500 teammates, with 24 branch offices across Indonesia, Vietnam, and China, to support our local insurance companies and distribution partners to serve their customers better.