Make it easy for customers to access insurance solutions, AXA General Insurance Indonesia launches AXA myPage
By : Hariyanto And Aldo Bella Putra | Friday, August 31 2018 - 01:00 IWST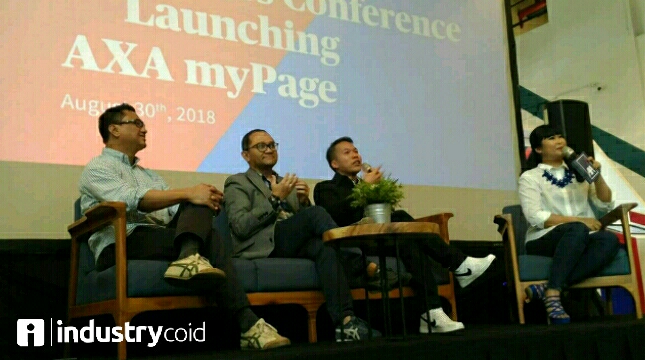 Peluncuran AXA MyPage (Hariyanto/INDUSTRY.co.id)
INDUSTRY.co.id - Jakarta - AXA General Insurance Indonesia officially announced the launch of its newest AXA myPage website platform, which offers convenience for customers in accessing their insurance solutions, as well as helping distribution agents to get closer to customers digitally.
AXA General Insurance Indonesia aims to provide customers the freedom to choose and control insurance products, which best suits their needs. AXA myPage offers three main products that cover travel protection insurance, motorized vehicles and health for customers and the wider community.
To realize this vision AXA General Insurance Indonesia is supported by DOKU, the first electronic payment service provider in Indonesia that will process every customer online transaction on the AXA myPage website platform.
"AXA myPage is a manifestation of our efforts to support digital access in reaching people and customers throughout Indonesia. However, we also provide convenience, by offering the best omni-channel access services in delivering our products and solutions, "said Kameswara Natakusumah, AXA General Insurance Indonesia's Chief Commercial Officer in Jakarta, Thursday (08/30/2018).
In addition to offering flexibility in choosing and controlling insurance products, AXA myPage is also a solution for AXA General Insurance Indonesia agents, which function as a digital platform that sells all of its product needs.
As AXA General Insurance business partners, agents will have their own personal pages on AXA myPage, which allows them to promote profiles while offering solutions online, directly to customers, which they can monitor their performance in real-time.
According to a survey from the Indonesian General Insurance Association in 2016, insurance penetration in Indonesia is still very low compared to the total population, which reaches more than 260 million people, with general insurance income which only reaches 0.50% of total GDP.
There are several main challenges that have an impact on insurance penetration in Indonesia, such as the level of understanding of insurance itself, inadequate accessibility and distribution of insurance products. In addition, the lack of innovation and the limited ability of the community to choose the most suitable insurance product is also a significant challenge.
"We listen to the aspirations of our Customers and business partners regarding the ease of obtaining and marketing safe and flexible insurance products, tailored to the needs of the Customer. Therefore we present AXA myPage, a digital innovation that is expected to be a major step in increasing insurance penetration in Indonesia, "explained Edwin Sugianto, AXA General Insurance Indonesia Chief Operating Officer.
Collaborating with DOKU, a leading electronic payment service provider in Indonesia, AXA General Insurance Indonesia solidifies its commitment to offering secure payment comfort. DOKU offers payment gateway services to purchase insurance products on the AXA myPage website in a convenient and safe manner, using various payment methods according to customer choice.
"We realize the importance of each transaction can be processed in real-time with a level of security that is maintained. Armed with a comprehensive fraud database, we build Artificial Intelligence (AI) which forms its own machine learning. This makes fraud monitoring run more accurately and effectively. In addition to monitoring by system, we also have a special fraud detection team to ensure the accuracy and smoothness of security for every transaction processed through payment gateway DOKU, "said Dody Wijaya, Vice President of DOKU Merchant Business.
AXA General Insurance Indonesia presents an innovation of convenience, freedom and transparency without concern about the security of payment transactions.
"By introducing AXA myPage, AXA General Insurance Indonesia takes one step forward in providing solutions that prioritize customers, making customers our partners, towards the mission of empowering people to live a better life," concluded Kameswara.