President Jokowi is Scheduled to Hand Over Superior Seeds of Rice Seeds
By : Herry Barus And Aldo Bella Putra | Wednesday, September 06 2017 - 21:00 IWST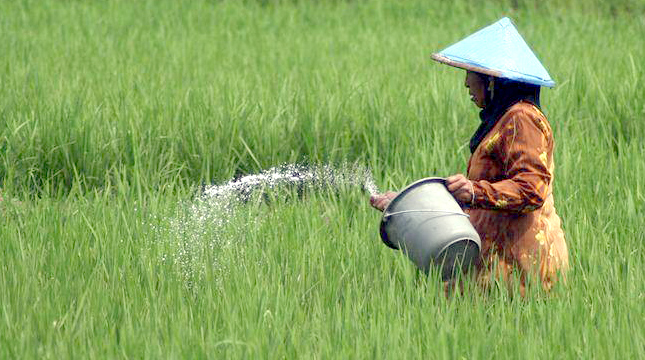 Petani Padi (Ilustrasi)
INDUSTRY.co.id - Bogor- President Joko Widodo is planned to hand over IPB-3S seed seedlings to a number of regional heads who have been committed to the development of these varieties in the region.
IPB-3S's superior seed seedlings were handed over to the Open Session in the framework of the 54th Anniversary of IPB, at Dramaga Campus, Bogor Regency, West Java, on Wednesday (6/9/2017)
IPB-3S rice variety is the result of innovation from Dr. Hajrial Aswidinoor, a researcher from the Department of Agronomy and Horticulture Faculty of Agriculture IPB, and has been inaugurated since five years ago through the Minister of Agriculture Decree on the release of varieties.
The advantages of the IPB-3S variety are the average harvest of seven tons per hectare, potentially up to 11.2 tons per hectare, tungro-resistant pests, either planted on irrigated or rain-fed fields, and the number of grains per panicle of approximately 223 grains.
In the IPB Anniversary Open Session that held the theme "Mainstreaming Agriculture for Indonesian Food Sovereignty", President Jokowi delivered his oration.
IPB Rector Prof. Herry Suhardiyanto MSc said that IPB's decisive year as prime mover of agriculture mainstreaming in development in Indonesia.
"In the 54th Anniversary of IPB, we want the stakeholders of policy and other stakeholders to put these issues and issues of agriculture and food into a common focus for the realization of the progress of the nation and state of the Republic of Indonesia," Herry told media crew at Bogor.
Herry confirmed the momentum of the 54th Anniversary of IPB is also expected to be filled with a series of activities that can bring the entire academic community, alumni, stakeholders, and the people of Indonesia to be able to recall the history and background of IPB standing.
He said IPB was founded with the idea and vision of the founders of the Indonesian nation who considered that agricultural higher education is very important in realizing a just, prosperous and prosperous nation.
"Through agricultural education, good cultivation technology, agricultural technology innovation, and various ideas will be used as a basis for policies to improve the welfare of farmers," Herry said.
Further Herry said IPB is required to provide solutions to various problems faced by the nation in particular and mankind in general.
"IPB also must always improve the relevance of academic programs that run," said Herry.
Therefore, he continued, IPB has set a research agenda that includes food, energy, ecology, poverty alleviation and biomedical.
According to him, with this research agenda, IPB can more easily direct the research theme so that it is convergent to produce innovations and policy recommendations that are useful in providing solutions for various national problems.
"IPB realizes that innovation is a very important part in the global era," he said.
Herry added, as one of the leading universities in Indonesia, IPB is always committed to produce innovations that are useful for the nation and the country.
"Because innovation has proven to be the driving force of the economy in many countries," Herry said.
The open session in the framework of the 54th Anniversary of IPB was attended by a number of officials and various institutions, besides thousands of IPB academics, both students and lecturers.
Appeared to be Coordinating Minister for Human Development and Culture Puan Maharani, Minister of Research, Technology and High Education M Nasir, Minister of State Secretary Pratikno, and West Java Governor Ahmad Heryawan.