AstraZeneca Indonesia and Jababeka Give Computer to Help the Three Elementary Schools in Cikarang
By : Hariyanto, Aldo Bella Putra | Wednesday, July 19 2017 - 11:05 IWST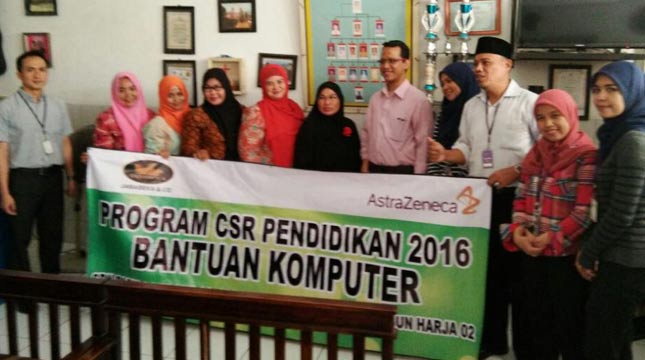 Jababeka CSR
INDUSTRY.co.id - Cikarang, PT AstraZeneca Indonesia and PT Jababeka Infrastructure of Corporate Social Responsibility (CSR) by giving six units of computers to three public elementary schools (SDN) in cikarang area on Friday (23/12). The three SDNs are SDN Pasir Gombong 1, SDN Wangun Harja 2, and SDN Harja Mekar 04.
The event was attended by Director of PT AstraZeneca Indonesia Rizman Abu Daeri along with management. While from Jababeka CSR was attended by M Taufik. For PT AstraZeneca Indonesia, this CSR activity is the first time conducted by PT Astrazeneca Indonesia with Jababeka.
HR and GA Supervisor PT AstraZeneca Indonesia Fatima Zahra said the purpose of providing computers to the three primary schools as a form of support to provide facilities for school administration activities.
"Later, the computer units are used for the needs of teachers and also the admin staff, because at this time the number of computers in SD is limited, so we provide support and development. (With additional computer units) so the teacher does not have to take turns when using a computer," said Zahra.
In addition, continued Zahra, CSR activity is also a communication between AstraZeneca with people in the industrial environment. In the future, pharmaceutical companies located in Jababeka III Cikarang Industrial Estate will continue to perform similar activities.
"AstraZeneca will (re) do CSR activities by holding Jababeka. The goal is to help the right target," added Zahra.
PT AstraZeneca Indonesia is a multinational (branch) company from AstraZeneca Plc pharmaceutical company. AstraZeneca Plc is the result of the merger of the Swiss company Astra AB and the British company Zeneca Group PLC.
PT AstraZeneca Indonesia develops, manufactures and sells pharmaceuticals for treatment of gastrointestinal, cardiological and vascular problems, neurological and psychiatric, infectious, respiratory, inflammatory, and oncology.
Although the company's headquarters is located in London, England, its research and development (R & D) center is located in Södertälje, Sweden. In addition to Sweden, the company also has R & D parts in other countries, the largest of which lies in the United States, United Kingdom, and India.