Improve Maternal and Toddler Health LOreal Cooperate with Jababeka Hold CSR in Cikarang
By : Hariyanto, Aldo Bella Putra | Wednesday, July 19 2017 - 11:10 IWST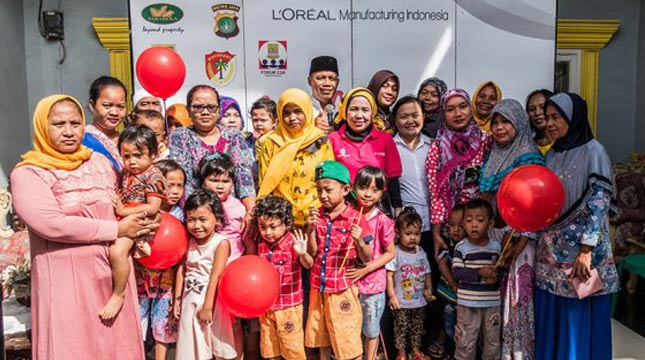 Jababeka and Loreal CSR
INDUSTRY.co.id - Cikarang, PT L'Oreal Indonesia cooperates with PT Jababeka Infrastruktur to hold Corporate Social Responsibility (CSR) event with Mobile Clinic theme at Pasir Gombong Village Head Office, North Cikarang Subdistrict, Bekasi Regency, West Java. Mobile Clinic activity lasts for three days, 10-12 January 2017.
External Relations Manager of PT L'Oreal Manufacturing Indonesia, Yasmine Sagita said, the purpose of Mobile Clinic is held as a health program for mothers and toddlers in North Cikarang.
He noted, there are at least about 350 mothers and toddlers who enthusiastically follow the event.
"The program is a health program in the form of Mobile Posyandu for mothers and toddlers. Many women still need counseling and improved understanding related to infant health. In this case we provide is posyandu, checking the health of children under five and counseling," said Yasmine, Thursday (12/1).
Yasmine added that the activities held earlier this year coincide with the weekend of Mobile Clinic entering the 3rd year.
Meanwhile, Corporate Social Responsibility (CSR) Manager Jababeka Erry Imasari said, Jababeka Group as the manager of Jababeka Industrial Estate (KIJ) always support CSR activities of companies located in KIJ.
Imasari added, Mobile Clinic activities this year will focus more on mother and child education.
"So what we do starting this year, Mobile Clinic with L'Oreal focuses more on mother and toddler giving a lot of counseling, food, milk and vitamins," explained Imasari.
Related to the target of CSR participants, Imasari explained during the three days of Mobile Clinic implementation, management targets 2,100 participants coming from several hamlets.
"Our target is 2,100 people, to get counseling about hygiene. So, there are three hamlets per day one hamlet, each hamlet has three neighborhoods with three posyandu," Imasari explained.
This CSR cooperation program also received support from the Bekasi District Health Office, represented by Drs. Lia Nurlita.
"Mobile Clinic activities are very beneficial for improving family health, I hope such activities can be an example of CSR for other companies in Bekasi" said Lia.
In addition to health checks for toddlers, health counseling is also held on improving child nutrition on that occasion, also distributed complementary milk and milk meals during the examination.