Construction of Balikpapan-Samarinda Toll Road Achieves 25.92 Percent
By : Herry Barus And Aldi Firhand. A | Wednesday, September 13 2017 - 11:27 IWST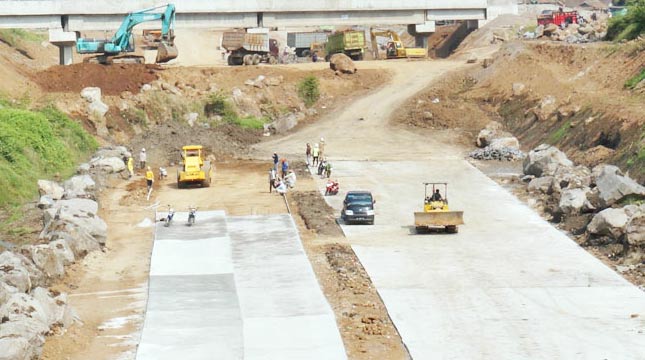 Toll Development
INDUSTRY.co.id - Jakarta- The Committee for the Acceleration of Priority Infrastructure Provision (KPPIP) stated that until Tuesday the construction of Balikpapan-Samarinda Toll Road along 99.35 kilometers in East Kalimantan Province has reached 25.92 percent.
The Rp9.97 trillion project itself is divided into five sections, namely Section I of Balikpapan KM 13-Samboja along 22.03 kilometers, recorded to reach the fastest construction progress that has reached 68.36 percent.
Furthermore, Section II of Samboja-Muara Jawa reaches 16.53 percent, Section III Muara Jawa-Palaran reaches 26.71 percent, Section IV Palaran-Samarinda reaches 12.13 percent, and Section V Balikpapan-Sepinggan Airport along 11.09 kilometers reach 8.26 percent.
For land acquisition, which is an important step before the start of construction, the total has reached 95.39 percent. In Section I and Section II, it has reached 100 percent. In Section III recorded reached 94.997 percent, Section IV reached 98.16 percent, and Section V reached 76.28 percent.
Director of the KPPIP Road and Bridge Project, Max Antameng, to the media crew said that the land acquisition in Section II by administration has reached 100 percent. However, there is still no construction yet because there is a planting area growing along 16.5 kilometers.
Section II section, he said again, crossed the 24-kilometer-long Bukit Soeharto Forest Park (Tahura) Area.
To discuss the permit for Section II trace, the internal coordination meeting will be conducted with the Ministry of Environment and Forestry (KLHK) which is also a member of KPPIP.
"Coordination will be held this week," said Max when met at KPPIP Office, Jakarta, Tuesday.
KPPIP will also coordinate with the Public Service Agency (BLU) of the State Asset Management Agency (LMAN) on the replacement of land acquisition bailout funds to developers. Max admitted, the bailout refund at the Balikpapan-Samarinda Toll Project is almost complete.
"Lastly I have information above 94 percent (return), so for now it has 98 percent," he said.
Known, this toll road will connect two big cities in East Kalimantan, Balikpapan and Samarinda. The existence of these toll roads could encourage the development of oil palm-based industrial areas, coal, oil and gas, and agriculture in both cities, in addition to areas traversed by tolls.
He hopes the project will increase connectivity and reduce logistics costs and travel time between Samarinda City and Balikpapan City.
The project is divided into two sections, namely Section 1 consists of Package 1 (25.07 km) and Package 5 (11.09 km); Section 2 consists of Package 2 (23.26 km); Package 3 (21.9 km); Package 4 (17.7 km).
The construction is done by Toll Road Enterprise (BUJT) of PT Jasa Marga Balikpapan-Samarinda with support from central and provincial government.
Ministry of Public Works and People's Housing (PUPR) and the Provincial Government of East Kalimantan provide support for the construction of Section 1 and Section 5.
For Section 2, Section 3, and Section 4 under the responsibility of PT Jasa Marga Balikpapan-Samarinda.