Indonesia Is Not Silent on the Problems of Muslims
By : Herry Barus And Aldo Bella Putra | Sunday, September 17 2017 - 16:00 IWST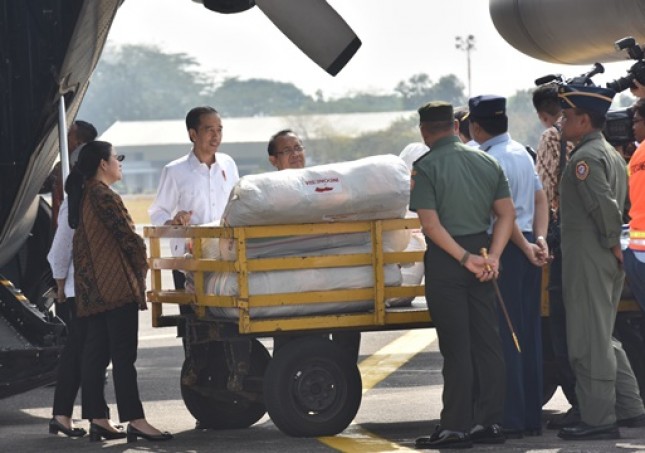 Presiden Jokowi melepas bantuan untuk Rohingya (Foto Setkab)
INDUSTRY.co.id - Solo- President Joko Widodo asserted that the Indonesian people never keep silent on the problems of Muslims in various countries.
"We also never remain silent about the problems of Muslims occurring in Muslim countries, because we uphold the mandate of the constitution that we are obliged to maintain world order based on independence, eternal peace and social justice," he said at the Manahan Solo Stadium , Sunday (09/17/2017)
"As a matter of fact, Palestine is also not yet free, Syria, Iraq, Yemen, Libya, still haunted by wars and conflicts and Afghanistan that have not fully recovered We are obliged to contribute, participate in providing solutions to bring peace to the world, in the world," said the President, who attended the National Gathering (Silatnas) Majlis Tafsir Al Quran III in Solo.
The president pointed out that in 2016 Indonesia opens honorary embassies in Ramallah, Palestine, and at the request of Palestinian President Mahmoud Abbas held an extraordinary high-level conference on Al-Quds Al-Sharif Palestine in Jakarta 2016.
"It's a lot of people who forget, it's our activities fellow Muslim country," he said.
In Afghanistan, he explained, Indonesia has also built an Islamic Center to support the education of children in the country.
"We are also building an Indonesian mosque in Kabul 2016. Soon we will invite the Afghan clerics to Indonesia to learn from each other, sharing each other to build Islam which is rahmatan lil alamin (grace for the whole of nature)."
"In December also, First Lady Rula Ghani, wife of Afghan President will visit Indonesia, InshaAllah to discuss women and children program," said President.
Regarding Rohingya ethnic issues in Rakhine State, Myanmar, the President insists that violence against them should be stopped immediately.
"I am sending the foreign minister to come not once twice to meet Aung San Suu Kyi and Myanmar military so that violence can be stopped," he said.
In January-February 2017, Indonesia has sent drugs and 10 food containers to help Rohingya refugees.
Last week, the Indonesian government again sent four Hercules aircraft carrying blanket, food and other medicines to Rohingya Muslims from Rakhine State who fled on the border of Myanmar and Bangladesh.
"This week we will also send again, either by plane or container, to our brother on the border of Myanmar and Bangladesh," added the President