55.7 Percent Society Satisfied Performance of President Jokowi-JK Government
By : Herry Barus And Aldo Bella Putra | Sunday, October 08 2017 - 17:00 IWST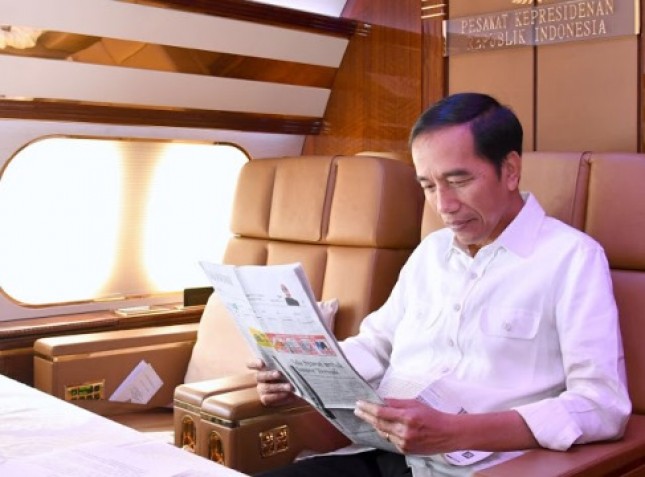 Presiden Jokowi (Foto Biro Pers Setpres)
INDUSTRY.co.id - Jakarta- Based on the results of a survey conducted by the Indonesian Public Opinion Discussion and Review Group, 55.7 percent of respondents were satisfied with the administration of President Joko Widodo (Jokowi) and Vice President Jusuf Kalla (JK).
The rest, there are 43.3 percent answered not satisfied and the rest did not answer. Infrastructure development (32.7 percent) and health and education assistance (16.3 percent) are the top two reasons satisfied with the Jokowi-JK government.
Founder of KedaiKOPI Survey Institute, Hendri Satrio through a written message to media crew in Jakarta, Sunday (10/08/2017) explained that the question topic on the survey is divided into several topics.
"The topic is not only about the elektabilitas Jokowi or Prabowo, but also about the vice presidential candidate, the current condition of Indonesia, including the opinion of the people about the realization of government promises during the campaign period," said Hendri While the price of basic needs is rising or expensive (22.7 percent ) and unfulfilled promises (8.5 percent) are reasons for dissatisfaction with the government.
The survey was launched nationwide in 8 cities (Medan, Padang, Palembang, Jakarta (excluding Thousand Islands), Bandung, Semarang, Surabaya and Makassar). Data collection was conducted in a face-to-face interview, involving 800 respondents, 8 to 27 September 2017 and a margin of error (MoE) of approximately 3.5 percent.
In other results, people are still complaining about economic issues when asked about the main problems facing the society today (open questions).
Economic problems (basic needs, fuel and electricity are expensive) 55.4 percent, employment demand 14.1 percent, corruption 3.9 percent, drugs 3.3 percent, hoax news about SARA 2.5 percent. Respondents who answered did not know there was 7.6 percent, the rest of the respondents mentioned something other than those mentioned.
When asked about current Indonesian conditions (open questions), respondents answered a difficult economy (24 percent), democracy being tested (21 percent), better than the previous government (20.5 percent), normal (regular) , 6 percent), development and services increased (5.8 percent), there was corruption (5.2 percent), there were security problems (4.8 percent), do not know (6.6 percent) the other answer.
Respondents assessed infrastructure development (24.9 percent), KIP, KIP (15 percent) execution, eradication of corruption and drugs (2.6 percent) and blusukan (1.3 percent) were Jokowi-JK's fulfilled promises (questions open). There are 31.5 percent of respondents who answered did not know while others answered other things not mentioned above.
About Jokowi elektabilitas and vice president Jokowi who chose Jokowi 44.9 percent while the option to choose the answer other than Jokowi there is 48.9 percent and the rest did not answer. In the answer option besides Jokowi, respondents mentioned Prabowo Subianto, Gatot Nurmantyo, Tri Rismaharini, Agus Harimurti Yudhoyono and several other names.
It seems to be judged to have an effect on the choice of political parties in 2019. Only 41.3 percent of respondents claimed they would vote for Jokowi's political party in 2019, 53.5 percent said they would not vote while the rest chose not to answer or not vote.
Voice figures seem to be quite decisive in the 2019 election in the future. A total of 49.9 percent of respondents admitted that the vacuum factor influenced in choosing the President while 48.4 percent answered no affect and the rest did not answer.
As Vice President Jokowi in the 2019 election, the people still put the name of M. Jusuf Kalla at the top (15.1 percent), Prabowo Subianto (13.4 percent), Gatot Nurmantyo (12 percent), Susi Pudjiastuti (10.1 percent) Agus Harimurti Yudhoyono (7.5 percent), Tito Karnavian (6 percent), Sri Mulyani (4.8 percent), Budi Gunawan (0.8 percent), other names (13.8 percent) and the rest answered did not know. (Ant)