PinkVoice Campaign Says Awareness of Breast Cancer
By : Nina Karlita And Aldo Bella Putra | Sunday, October 08 2017 - 19:00 IWST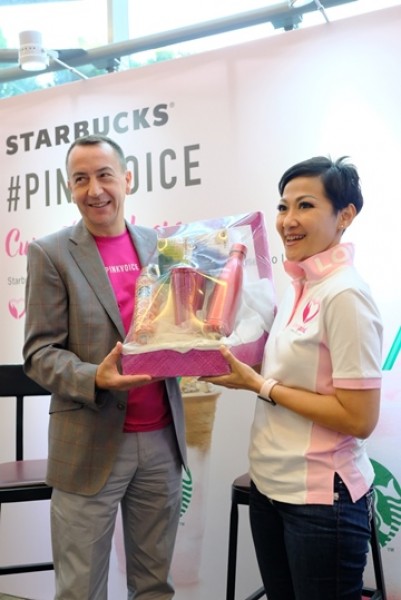 Anthony Cottan, direktur, Starbucks Indonesia (Foto Humas)
INDUSTRY.co.id - Jakarta - In order to celebrate the month of breast cancer worldwide which falls in October every year, Starbucks works with Lovepink Indonesia, a non-profit organization focused on breast cancer issues, launching #PINKVOICE. #PINKVOICE is a campaign that encourages everyone to speak about breast cancer awareness.
To enliven #PINKVOICE, Starbucks makes four specialty drinks in pink where 10% of the proceeds will be donated to support Lovepink's mission. The four drinks are Iced / Hot Pink Macchiato, Iced / Hot Raspberry Latte, Pink Blossom Frappuccino and Pink Yogurt Frappuccino are available from 1 - 31 October 2017 at all Starbucks stores spread across Indonesia.
Starbucks hopes that with this pink drink, the message delivery in raising awareness of breast cancer becomes more fun and exciting. Starbucks is a place to gather, tell each other and hope while enjoying this drink, they will immediately 'think pink' and encourage interaction and conversation around this important health issue, says Anthony Cottan, director, Starbucks Indonesia.
Breast cancer is the leading cause of death of women in Indonesia. Although women are more susceptible to breast cancer, men also have the possibility to suffer from this disease. According to data from the World Health Organization (WHO), every year there are 8.2 million cases of death of women in the world caused by breast cancer.
WHO also predicts cases of breast cancer in Indonesia will increase as much as 7 times until 2030. Surveys conducted by Lovepink some time ago in Jakarta found a shift in age of patients with breast cancer is getting younger 30-40 years.
Data also revealed that most breast cancer patients who come to the hospital have entered an advanced stage. The survey also found that awareness about breast cancer is quite high, but still many of us who do not understand the importance of doing routine breast examination.
Madelina Mutia, co-founder of Lovepink Indonesia, explains, "Based on the results of our survey, many patients come in advanced conditions because they are not aware of breast cancer symptoms and have never done breast examination before. Breast cancer will be more easily treated when it is found in the early stages, this is where the importance of doing routine breast examination to detect early on if there are symptoms of breast cancer."
"We are delighted to be working with Starbucks to raise awareness of breast cancer in Indonesia. Through the #PINKVOICE campaign, we hope that more and more Indonesians will be able to understand the importance of performing routine breast examination (BSE - Breast Self Check and SADANIS - Check Clinical Breast). Breast cancer is not something that should be feared or covered, together we can fight breast cancer," she explained.