BPH Oil and Gas Suggests Incentives for SPBU Investors
By : Hariyanto And Aldo Bella Putra | Thursday, October 19 2017 - 19:00 IWST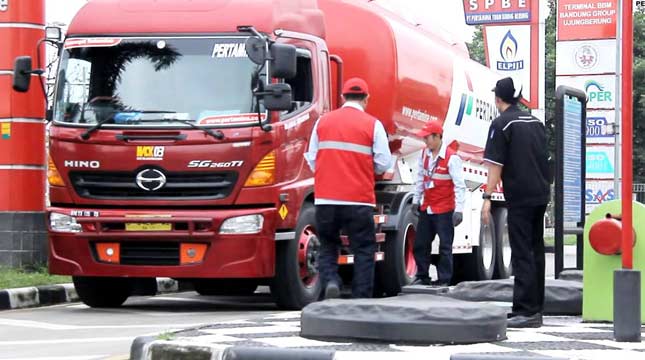 Pertamina (Foto: Ist)
INDUSTRY.co.id - Jakarta - The Downstream Oil and Gas Regulatory Body (BPH Migas) recommends providing incentive stimulation for gas station investors in underdeveloped, foremost and outer areas (3T).
"Currently Pertamina has provided that stimulus in Papua by providing an additional margin of Rp700 per liter," said Committee Members BPH Oil and Gas Hendry Ahmad at the Office of BPH Oil and Gas Jakarta, Wednesday (18/10/2017)
Furthermore, he explained initially the margin in some 3T areas on average was Rp150. If per day distributed 300 liters then the profit is only Rp45 thousand per day from initial investment that he example of Rp150 million.
According to the calculation that makes investors less excited. Therefore, it is currently coordinating with Pertamina to provide appropriate stimuli in addition to only incentives.
Then he pointed out, for example, the ease of investment for retail outlets in terms of land and location. The minimum land is at least 100 meters, and has a safe distance with storage tanks.
At least have a special location not at home alone. He exemplifies in Bias Island's blood there for authorized retail capital ranging from Rp75 million, so it should be at least in other areas that have more or less the same area at least get the initial incentives of that number.
The purpose of such incentives is to make the fuel price one easy to reach. BBM One Price program across Indonesia in 2017 is less 14 points to meet year-end achievement targets.
"Target 2017 is as much as 54 points, until now has 26 inaugurated," he said.
He further explained the other six points will be inaugurated and the remaining eight new development stage of construction and has not been inaugurated. While in 2018 will be targeted as much as 50 points.
He is optimistic until the end of 2017 the target will be achieved. According to him, many factors inhibit the implementation of BBM One Price Program.
In addition to hampered investors, coordination with the local government often experienced differences of opinion. Determining the location of Pertamina is sometimes different from the wishes of local governments.