ASEAN Agreement Is Difficult to Implement Nationally
By : Herry Barus And Aldo Bella Putra | Sunday, October 22 2017 - 13:00 IWST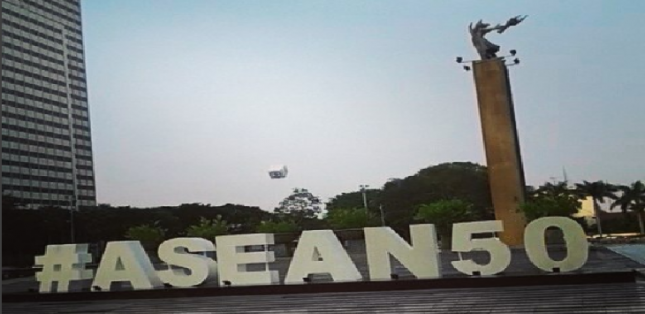 Parade ASEAN 50 Tahun (Foto Ist)
INDUSTRY.co.id - Jakarta - The Director General of ASEAN Cooperation of the Foreign Ministry Jose Tavares expressed one of the challenges facing ASEAN by translating various agreements at the regional level into the national regulations of each member country.
One of the ASEAN conventions which to date is difficult to implement in each member country is related to the eradication of terrorism, which includes among others the exchange of intelligence information and cooperation across countries.
"The police and security forces of each country are so busy with their own domestic criminality and problems that it is difficult to adopt this regional regulation in addition to their work," Jose said during a discussion session on ASEAN at the Indonesian Foreign Policy Conference held FPCI in Jakarta on Saturday (21/10/2017)
In its 50 years of age, ASEAN does not yet have a mechanism that can further compel its member states to implement regional agreements.
Yet the younger generation is now demanding a more effective and fast-moving ASEAN role to tackle regional issues.
"One of the biggest issues that must be faced now is finding the right balance between national sovereignty and regional interests, we must have an institution capable of exercising this authority," Jose said.
If ASEAN wants to continue to be relevant and growing, the former Indonesian Ambassador to New Zealand proposes strengthening the role of the ASEAN Secretariat in order not only to be an administrative institution.
Facilitated with more funds and authority, the ASEAN Secretariat is expected to have specialized agencies that can oversee the implementation of regional agreements at the national level, based on the collective issues facing member states.
"I want the AICHR, for example, to develop into a stronger body that can handle even sensitive human rights issues in ASEAN," Jose said.
Public policy expert from Singapore Kishore Mahbubani also criticized the weakness of the role of ASEAN Secretariat as the main vehicle that can arouse awareness and sense of belonging to ASEAN citizens.
Kishore said the weakness of the role was due to the ASEAN Secretariat's budget allocation which, compared to the EU Secretariat, was only one eighth.