Presence of President Jokowi Is Important in International Forum
By : Herry Barus And Aldo Bella Putra | Sunday, October 22 2017 - 14:00 IWST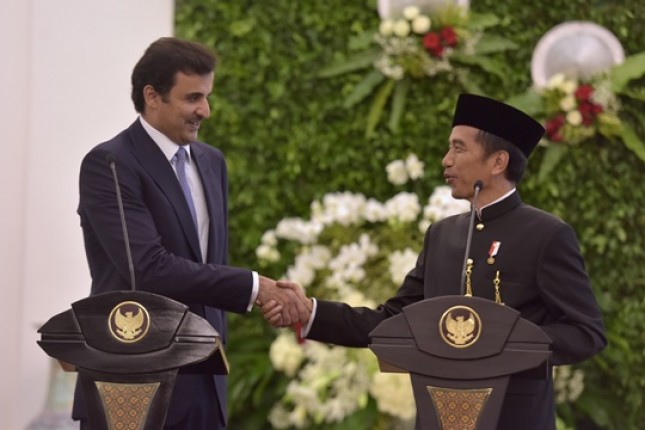 Presiden Jokowi bersama Emir Qatar Syekh Tamim bin Hamad Al Thani di Istana Kepresidenan Bogor, Rabu (18/10). (Foto: Humas/Oji)
INDUSTRY.co.id - Jakarta - Professor at the Indonesian Institute of Sciences (LIPI) Political Research Center (LIPI) Dewi Fortuna Anwar assessed the presence of President Joko Widodo in important international forums to revive Indonesia's increasingly fading leadership role in recent years.
"It takes intellectual leadership, not just physically present but (the president must) have the ability to articulate ideas and build relationships with other parties," said Dewi in a discussion on the weakness of foreign policy of Indonesia organized Foreign Policy Community of Indonesia (FPCI) in Jakarta , Saturday (21/10/2017)
The absence of President Jokowi in three consecutive UN General Assembly considered by Goddess is unacceptable considering Indonesia is currently struggling to become a non-permanent member of the UN Security Council.
In addition, the issue of vacuum leadership in ASEAN also arises because Indonesia as a country whose leadership is recognized naturally increasingly unable to represent ASEAN in multilateral forums.
Although there is no doubt that over the last three years there has been progress in the field of economic diplomacy to increase investment, Indonesia's active in international organizations, territorial integrity protection and protection of Indonesian citizens, Dewi must admit that Jokowi is not a president who prioritizes foreign policy.
"This is also a matter of leadership style, although Retno's mother (Marsudi) does her job very well, but in the end the Indonesian leadership is still seen from her president," said former member of the United Nations Advisory Council on Disarmament.
Dewi reminded President Jokowi that "there is no free lunch in international relations".
The phrase refers to the fact that when Indonesia is intensively engaged in economic cooperation with great power, in the past with the United States and now with China, there will always be risks to the security and political dimensions.
"We must be very aware that a country is potentially locked in an asymmetrical relationship, so we must be careful not to depend on other countries because it will damage our strategic economy, that's a bad example of what happened in Cambodia," Dewi said.
In contrast to Dewi, the Director General of Protocol and Consular Affairs of the Indonesian Ministry of Foreign Affairs, Andri Hadi, said that President Jokowi actually has a lot of attention and is quite involved in foreign policy, although he has a different approach and leadership style with his predecessor Susilo Bambang Yudhoyono stands out in terms of diplomacy.
"And he is actually quite popular in international forums so I think it's unfair to say that President Jokowi does not make foreign policy a priority just because he does not attend UN meetings," Andri said. (Ant)