Sharia Finance Industry is A Solutions Strengthening the People's Economy
By : Herry Barus And Aldo Bella Putra | Sunday, October 22 2017 - 21:30 IWST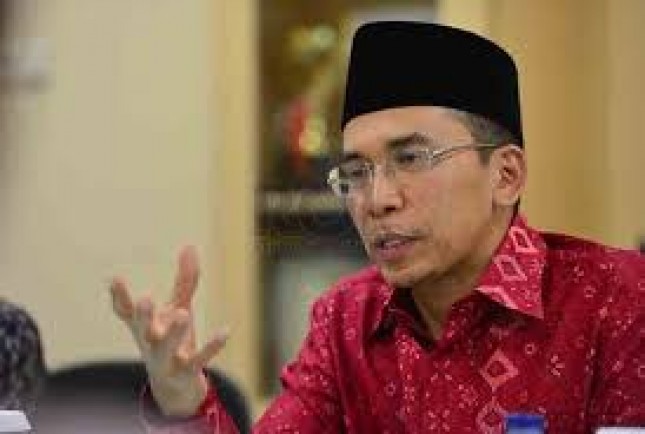 Gubernur NTB (foto REPUBLIKA.co.id)
INDUSTRY.co.id - Jakarta - NTB Governor TGH M Zainul Majdi, who is familiarly called Tuan Guru Bajang (TGB), considers sharia-based economic system a solution to strengthen the people's economy.
According to him, in his statement in Jakarta, Sunday (22/10/2017), the strengthening of the democratic economic sector needs to be sharpened and realized massively and evenly as a way out for the people to be satisfied with the current government.
Master Tuan explained the focus of Jokowi-Kalla Government on the control of food prices and economic equity, which is fair, must be reachable by the wider community.
"I think as a way out so that the current government can meet the expectations of its people is necessary to develop a uniform populist economic system," he said.
TGB explained that food price stabilization is expected to be maintained throughout this year and the following year, so that people's purchasing power can be maintained to encourage the realization of economic growth targets.
In addition, he continued, the coordination between the Minister of Agriculture and SOEs food sector in maintaining the stock of basic commodities so that prices can continue to be stable, the key to controlling food prices.
"Inter-ministerial and institutional coordination is essential to maintain food price stability," Master Tuan said.
TGB added that the development of a populist economic system should also be a government priority in order to make distribution of development faster.
One of them is the acceleration and equity of infrastructure development, improvement of health education services, and the eradication of poverty and unemployment.
Because, said TGB, the sector is actually the largest part that forms the national economy.
Moreover, this sector has obviously been able to boost the economic improvement of the community, with an effect that has a major impact on the growth of other sectors.
According to Master Teacher, based on data from survey institutes such as KedaiKOPI, SMRC and Indicators, Jokowi Government's performance by the third year shows the majority of people feel satisfaction.
However, for the economic sector, the main complaint of the community is mainly about the rise of food prices and the purchasing power of the people who are not very good.
"On the other hand, the problem of poverty is also still a classic problem faced by the Indonesian Nation, which indicates that the government's economic policy is still not favorable to the weak economies that in fact are small people," he said.
TGB also said the pattern of sharia financial services could be a solution to be able to open access and strengthen the populist economy.