Surabaya Became the Host of Rakernas Participant (I) SMSI
By : Aldi Firhand Alqudri | Monday, July 24 2017 - 19:16 IWST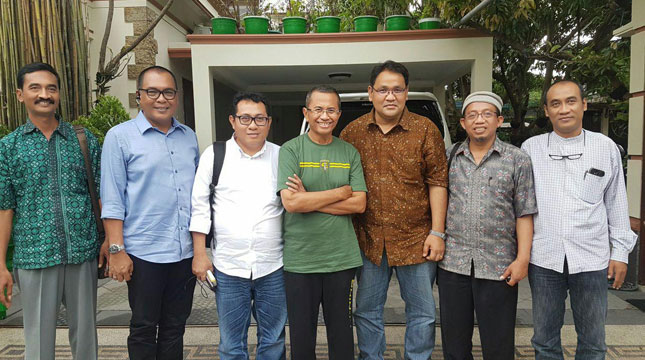 5619
INDUSTRY.co.id - Surabaya - Surabaya City was chosen to host the Siber Indonesia Media Union (SMSI) and is ready to accept the participants of SMSI Rakernas. Persipannya already 90 percent and continue dikebut until really can welcome participants from all over Indonesia.
"After we met Mr. Dahlan together with the SMSI Headquarters, Teguh Santosa and Secretary General Firdaus, Mr. Dahlan gave the Surabaya green light to be the first place for this rakernas," said Eko Pamuji, Chairman of SMSI Jatim, Saturday (22/7/2017).
With a relatively short time, the organization of a cyber-media company with SMSI header was already established in almost all provinces. Hangga news was launched; no less than 25 branches in Indonesia have been formed, with members who average reach hundreds.
This SMSI I Rakernas event will be held on 26-27 July 2017 at Hotel Harris Gubeng Surabaya. Chairman of SMSI East Java Eko Pamuji, said that all the preparations have been done with the maximum, because this event presents a number of important figures.
"Besides the Press Council and PWI, we also invited a number of other important figures such as Pak Dahlan Iskan, and for our government also invited the Ministry of Communication and Informatics, Provincial Forpimda and Surabaya City Forpimda," he said.

To note, siber media is a form of the development of information and communication technology that has now changed the landscape of public spaces around the world, not least in Indonesia. The individual is no longer a passive audience. With wide access to the virtual world, every individual can also be an information producer.
This new landscape makes it easy to exchange information, including false or hoax news. Indonesia has 250 million inhabitants and an estimated 135 million of whom have connections to the cyber world, facing a dilemma.
On the one hand information can be disseminated quickly and massively. On the other hand, information, and communication technology can also be used to spread false rumor, hate speech and slander, quickly and massively.
Indonesian Journalists Association (PWI) believes that the best way to combat false news, especially those spread in cyberspace, is to improve the professionalism of corporations and cyber journalists.
In addition to UKW, which also needs to be done is to build an association of internet-based mass media companies to encourage professionals of cyber media companies are very much in number in Indonesia.