GAPKI and APKASINDO Sign MoU on Permanent Partnership Development
By : Hariyanto And Aldo Bella Putra | Monday, November 06 2017 - 18:00 IWST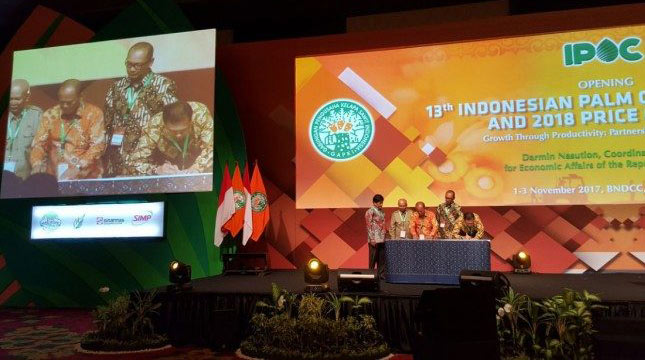 GAPKI dan APKASINDO Tandatangani MOU Pembinaan Kemitraan Permanen (Ist)
INDUSTRY.co.id - Nusa Dua - Indonesian Palm Oil Entrepreneurs Association (GAPKI) and Indonesian Oil Palm Farmers Association (APKASINDO) signed a memorandum of understanding (MoU) together on the establishment of a permanent partnership. This cooperation is expected to assist farmers in improving the productivity of oil palm people.
The cooperation was signed directly by the Chairman of APKASINDO, Anizar Simanjuntak and Chairman of GAPKI, Joko Supriyono, witnessed by the association board of Asmar Arsjad, Secretary General of APKASINDO and Togar Sitanggang, Secretary General of GAPKI, on the sidelines of IPOC 2017 13th Indonesian Palm Oil Conference and 2018 Price Outlook, in Bali Nusa Dua Convention Center, Bali, on Thursday (2/11/2017) ago.
Anizar Simanjuntak explained that partnership is very important to help improve the productivity of smallholders. The reason, there are still many people's palm oil plantations using seeds. "Partnerships are needed by smallholders, such as replanting time now," Anizar said.
APKASINDO's Secretary General, Rino Afrino said the MoU affirmed that both parties are committed to bringing about a sustainable palm oil plantation in Indonesia. The goal of partnership between entrepreneurs and farmers can help increase productivity and farmers' welfare.
Rino added, IPOC 2017 becomes a milestone for palm oil plantation of the people, especially APKASINDO as an organization of all oil palm farmers in Indonesia. IPOC this year is very special for APKASINDO because it can participate as exhibitors and speakers.
"We can inform all parties about the progress and challenges of Indonesian people's plantation and the development of APKASINDO," said Rino.
Currently, APKASINDO has stewardship in 21 provinces and 140 districts throughout Indonesia. "In the future, we will strengthen the internal organization to the sub-district level so that the oil palm growers can feel the APKASINDO program," said Rino.
Rino said APKASINDO still needs active support and collaboration from all stakeholders from central government, local government, educational and research institutions, BPDP-KS, GAPKI and APKASINDO to help the problems in the oil palm plantations of the people.