Wow, TBS The Result of Palm Jambi Farmers Entrance Records MURI Records
By : Hariyanto And Aldo Bella Putra | Monday, November 06 2017 - 17:00 IWST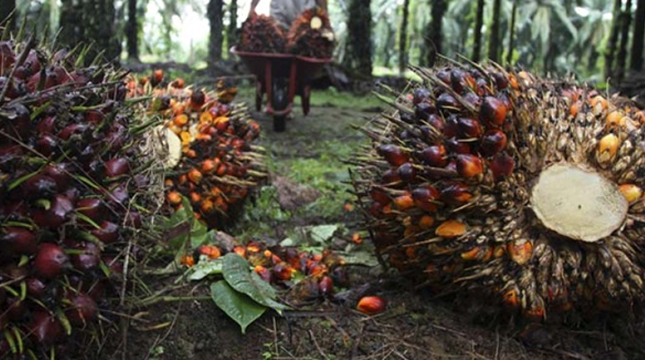 Ilustrasi TBS Kelapa Sawit (Ist)
INDUSTRY.co.id - Jakarta - Not many know if oil palm can be fruitful in jumbo size. Oil palm farmers from Jambi province, Sugiarto succeeded in growing Fresh Fruit Bunches (FFB) of 85.02 kilograms (kg) even included in the record of the Indonesian Record Museum (MURI) 2017.
"After being verified and weighing TBS in the field, Pak Sugiarto's TBS is declared the winner of TBS weighing 85.02 kg," said Chairman of the Toughest Record of TBS Record of 2017 Competition held by Indonesian Palm Oil Entrepreneurs Association (Gapki), Dasrizal Raham.
Through a written statement in Jakarta, Sunday (5/11/2017), Sugiarto received a MURI Record and a garden maintenance fee worth Rp10 million, in the event "13th Indonesian Palm Oil Conference and 2018 Price Outlook" at Nusa Dua Convention Center, Bali on Thursday (2/11/2017).
Sugiarto is a palm farmer from Tidar Kuranji Village, Maro Sebo Ilir District, Batang Hari Regency, Jambi. Since the beginning of planting palm, he confessed; want to work hard to maximize production.
Members of the plasma farmer PT Inti Indo Sawit Subur stated, always follow the guidance of officers from PT Inti Indo Sawit Subur who is a member of Gapki Jambi Branch.
"I always 'ngopeni' (take care of) my garden according to the direction of the company.If I was told to be cleaned, I clean it, if asked to fertilized yes I fertilize, I just follow it," said transmigrants from Bondowoso, East Java.
Sugiarto said he owns two hectares (ha) of oil palm plantations, granting the government. The garden was then planted with palm in 1993 using the seeds of the company.
Currently, from two hectares of oil palm plantation per month yields 6 tons of TBS. Meanwhile, the price for every ton of TBS last week was Rp1,685,950, so in a month, he pocketed Rp10,115,700.
"In these two ha only seven palm trees produce jumbo TBS," he said.
Chairman of GAPKI Joko Supriyono said the toughest TBS competition is to stimulate plasma farmers in order to increase the productivity of the garden. "This is our effort to encourage farmers to be eager to maintain their gardens," he said.
Meanwhile, Chairman of GAPKI Jambi, Tidar Bagaskara said, oil seedlings planted in the garden owned by Sugiarto, merupkan certified superior seeds. The seedlings are from the Palm Oil Research Center (PPKS) Medan.
"Pak Sugiarto as chairman of the farmer group is also active in coordinating with the company, he also often coaching his members, he has 2 ha, one farmer group is 15 plots or 30 ha," he said.
According to Tidar, the TBS produced by Sugiarto's gardens is extraordinary, because the average TBS weighs around 25-35 kg. "Not all plants in the farm can produce 85.02 kg of TBS, usually in one plot, there are only 4-7 trees that have TBS weighing above average," he said.
He stated, Sugiarto is very obedient to the harvest rules. Rotate the harvest in a month three times, so once every 10 days to harvest.