Firearms KKB Mimika Papua Total 35 shoots
By : Herry Barus And Aldo Bella Putra | Saturday, November 11 2017 - 21:00 IWST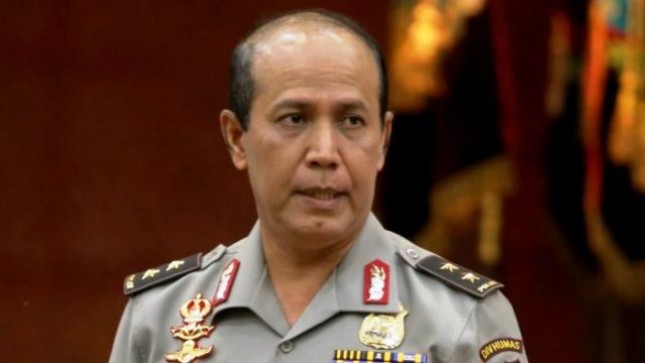 Kapolda Papua, Irjen Pol Boy Rafli Amar
INDUSTRY.co.id - Jayapura - Papua Police Chief Insp. Gen Boy Rafli Amar said the number of firearms belonging to armed criminal groups (KKB) claiming control of Kampung Utikini and surrounding areas in Mimika Regency, Papua, was 35 shoots.
"Approximately 35 yah, more or less and some are using traditional weapons including arrows also exist," he said when contacted from the city of Jayapura, Papua, Friday (10/11/2017)
However, the former Banten police chief did not know exactly the amount of ammunition used by the KKB, whether it is thinning or many.
"We do not know yet how far it is, we do not know yet," he told media crews.
Behind this, in a number of social media circulating photos of two long barrel type firearms and known type Styer Aug. Two of the assault weapons commonly used by Special Forces were photographed with standing.
In addition to photographs, both weapons that have a caliber 5.46 mm was also seen the figure of a grown man with dreadlocks carrying the weapon.
Both photographs of the firearms are thought to be part of 30 weapons owned by KKB claiming control of Kampung Utikini and surrounding areas of Tembagapura district, Mimika regency, Papua.
Separately, Pangdam XVII / Cenderawasih Maj. Gen. George Elnadus Supit confirmed the information he obtained that KKB in Kampung Utikini has 35 firearms.
"Yes the information is about 30 to 35. In terms of our plan to strengthen the police," he said.
Maj. Gen. Supit confirmed that he would take further action with the police to plan how to deal with the already troubling KKB.
"If we do not take further action, we are planning to start with the negotiations first.If you meet a dead end and do not cooperate with us, we will take follow-up action, like that," he said.
He added that his side with Porli is taking steps for evacuation efforts involving local governments and influential stakeholders.