New Suspect of E-ID Card Immediately Announced by KPK
By : Aldi Firhand Alqudri | Tuesday, July 25 2017 - 18:41 IWST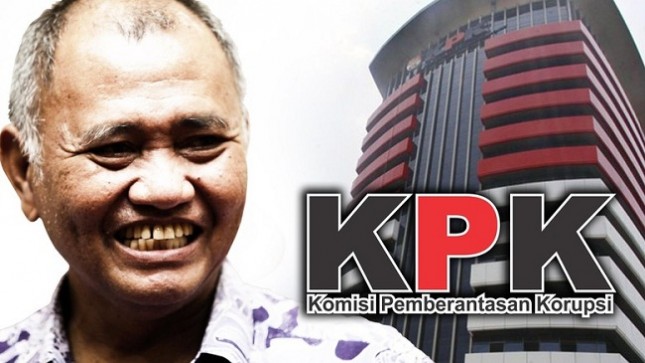 Agus Rahardjo
INDUSTRY.co.id -Jakarta - The Corruption Eradication Commission Chairman Agus Rahardjo stating it was likely no more new suspect in the investigation of corruption procurement application packages based Identity Card Population Identification Number nationally or KTP-e.

KPK has just appointed Chairman of the House of Representatives Setya Novanto who is also Chairman of the DPP Golkar Party as a suspect in the case.

"It is not possible," said Agus at KPK building, Jakarta, Wednesday (7/19/2017)

According to Agus, based on charges the former Director General of Population and Civil Registration (Dukcapil) Ministry of Home Affairs (MOHA) Irman and Managing Director of the Population Administration Information (PIAK) Kemendagri Sugiharto quite a lot of names mentioned in the process of providing project KTP-e them.

"Let's wait, we wait for the results of the new examination.We'll wait for the process in the trial, it becomes our material to continue the step," said Agus.

The Commission has set House Speaker Setya Novanto as suspect cases of alleged corruption procurement ID card application packages based national parent population number (ID-E) in 2011-2012 at the Ministry of Internal Affairs.

The KPK found sufficient initial evidence to set one more as a suspect. The Commission determined the brother of SN (Setya Novanto) member of the House of Representatives for the period 2009-2014 as a suspect for allegedly to benefit himself, others, or a corporation.

Setnov suspected of abusing authority, opportunity or means available to him because of his position or office that allegedly resulted in state losses of at least 2.3 trillion from the value of the procurement package around Rp5.9 trillion in the e-procurement package at the Ministry of Internal Affairs ID card.

Setnov alleged violation of article 2 paragraph (1) of article 3 of Law No. 31 of 1999 as amended by Law No. 20 of 2001 on Corruption Eradication jo Article 55 paragraph (1) 1st Criminal Code.

Articles specify the person who broke the law, abuse of authority, opportunity or means available to him the position or positions that can be detrimental to the finances and economy of the country and enrich yourself, another person or corporation with imprisonment of a maximum of 20 years and a maximum fine of Rp 1 billion .

According to Agus, Setnov who currently serves as Chairman of the Golkar Party Faction, plays through a businessman named Andi Agustinus alias Andi Narogong.
"SN through AA (Andi Agustinus) is alleged to have a good role in planning process and budget discussion in DPR and procurement process of goods and services of ID card E. SN through AA is alleged to have conditioned participants and winners of procurement of goods and services of ID card E" .

Agus asserted that as revealed in the facts of two previous accused trials namely the former Director General of Population and Civil Registration (Dukcapil) Kemendagri Irman and former Director of Information Management of Population Administration (PIAK) Kemendagri Sugiharto, Setnov has been in the role since planning.

"Suspected suspect's actions have been done since the planning is done in two stages of budgeting and procurement process of goods and services," added Agus.

In this case there have been 2 people who have trial in court as defendant that is former Director General (Dukcapil) Kemendagri Irman which prosecuted 7 year and crime densa amount Rp500 million subsider 6 months confinement plus obligation to pay replacement amount 273,700 US dollars and Rp2,248 billion As well as 6,000 Singapore dollars subsidize 2 years in prison.

Furthermore, former Director of PIAK Kemendagri Sugiharto who has also been sued for 5 years imprisonment plus a fine of Rp400 million subsider 6 months and obligation to pay substitute money worth Rp500 million subsider 1 year in prison.

Another defendant was a member of the House of Representatives from the Hanura faction Miryam S Haryani who was indicted for giving false information in the hearing of KTP-E and already in the process of hearing with the indictment reading on 13 July 2017.

While there are also 2 people who have been designated as suspects Andi Agustinus as suspected alleged corruption ID card-E and members of the House of Representatives Golkar Faction Markus Nari in alleged corruption crime deliberately prevent, obstruct, foil directly or indirectly investigation, examination at the hearing E-ID. (Ant)