Expand Internet Network, Kominfo Plan 2019 Temporary Satellite Rental
By : Ahmad Fadli Dan Aldo Bella Putra | Thursday, November 16 2017 - 18:00 IWST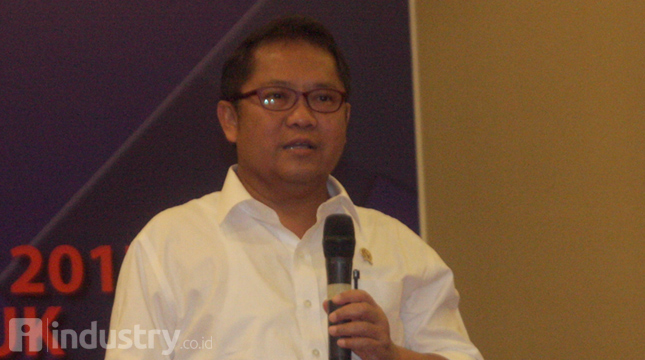 Menteri Komunikasi dan Informatika Republik Indonesia (Menkominfo) Rudiantara (Hariyanto/ INDUSTRY.co.id)
INDUSTRY.co.id - Jakarta - Communications and Informatics Minister Rudiantara said it will hire high-speed satellite internet in 2019 for a while in order to speed up services to various institutions such as schools, villages and community health centers that have not accessed the internet.
The policy, according to the Minister conducted before launching its own satellite on 2021-2022.
According to Rudiantara in Jakarta, Wednesday (15/11/2017) the government has scheduled the launch of high-speed internet satellite launch in 2018 and is expected to launch a new satellite will be done in late 2021 or early 2022.
"By 2018 we will determine who will be the agency to design the build, launch and operate of satellites, whose satellites will be launched by the end of 2021 or early 2022," he told media crews.
Therefore, before, the high-speed satellite launched by Indonesia fly, it will rent a satellite in 2019. So later, when the satellite has been launched and fly, the service can be moved quickly.
Thus, according to him, this will accelerate high speed internet services required by various agencies such as schools and madrasahs, puskesmas, police, police, Kodim and villages that are not yet getting access.
"There's a good three years, we'll find which satellite we can rent, so after our satellite above move to our satellite, because the service must be as soon as possible, infrastructure must be built as soon as possible, so we can competition ," he said.
He said, in 2019 gradually various agencies will be served so that in 2024 will all have to connect with high-speed internet.
According to him, there are about 140-150 thousand points of good schools, health centers and villages that will be connected with high speed internet.
Meanwhile, the antenna that became a supporter for the internet at that point will have to be produced in the regions to develop the economy.
"Imagine the 140 thousand-150 thousand antennas we need, if the price of one antenna Rp2 million, Rp3 million, how many hundred billion we will spread this to the region," he said.