Citizen Liberation By the Joint Team of Police and the TNI Deserves Appreciation
By : Herry Barus And Aldo Bella Putra | Saturday, November 18 2017 - 13:00 IWST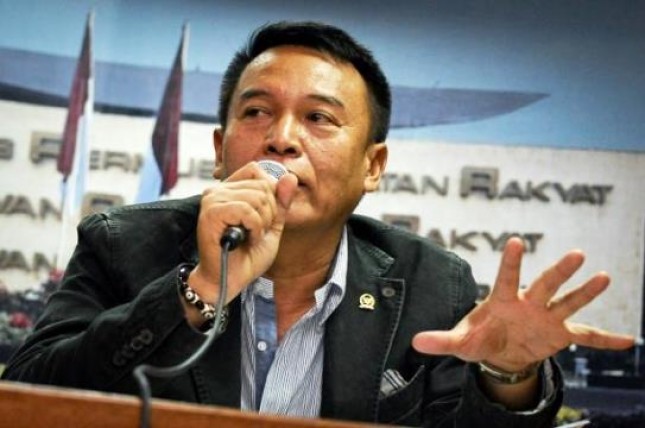 Wakil Ketua Komisi I DPR Tubagus Hasanuddin (Foto Istimewa)
INDUSTRY.co.id - Jakarta - The success of the joint team of the Indonesian National Police and the Indonesian Armed Forces in evacuating 345 people held hostage by the Armed Kriminal Group (KKB) in Kimbely and Utikini Village, Papua, on Friday (17/11/2017) deserves appreciation. However, the security forces must keep conducting chase operations against the group.
"I appreciate the hard work and cohesiveness that the TNI-Polri shows in the evacuation of people held hostage by armed criminal groups, but the security forces must keep hunting down the group so that the group cannot grow anymore," said TB Hasanuddin, Saturday (18/11 / 2017).
In the pursuit of such armed criminal groups, a mature strategy is needed because, the group has a standard military weapon. Moreover, the armed group had dared to challenge the open war to the authorities.
"The pursuit should not be interpreted to completely destroy or kill members of armed groups directly," he said.
TB Hasanuddin suggested that the joint team of the Indonesian National Police and the TNI could include Komnas HAM when conducting a persuasive approach with the armed groups. Thus, continued TB Hasanuddin, Komnas HAM can understand the real situation in the field.
"It is possible that the armed groups could be addressed well if there is Komnas HAM," said TB Hasanuddin.
If the armed groups do not heed the request of the apparatus, TB Hasanuddin suggested, joint team of Polri and TNI can take firm action as the last step.
"Well, if the armed groups continue to insist that they do not want to be reconciled, Komnas HAM knows it's real condition, so it does not blame the actions of the authorities," said TB Hasanuddin.
However, added TB Hasanuddin, in fact in any country, whose name is armed groups other than security apparatus, is not recognized in the country.
"So, do not let a group of citizens who have weapons of military standards in a wild country, should not lose," said TB Hasanuddin.
Previously reported, at least there are 1300 people from two villages, namely Kimbely Village and Banti Village, District Tembagapura, Mimika Regency, Papua, was banned from the village by armed groups.
Of the 1,300 people held hostage, joint TNI and police officers managed to evacuate 345 villagers Kimberly and Utikini, Papua, on Friday (17/11/2017) afternoon.
Based on preliminary data, the people who successfully evacuated were 104 men, 32 women, and 14 children. In total there are 344 people from Kimbely Village. Then, it followed 153 men, 31 women, and 10 children who were in the avalanche area.
Until now, the process of continuing evacuation of two villages in Mimika, Papua, is still ongoing.