President Jokowi: Military, Police Must Synergize for Nation, Country
By : Nata Kesuma | Wednesday, July 14 2021 - 17:00 IWST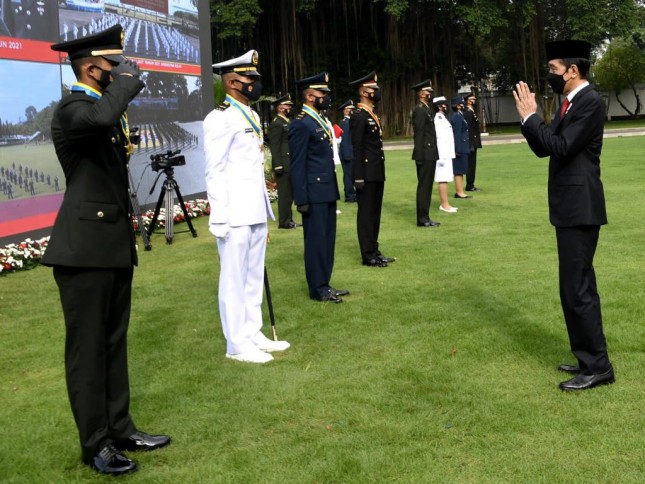 President Jokowi congratulates Adhi Makayasa award recipients during the 2021 Prasetya Perwira military and police inauguration ceremony, (Photo: Bureau of Press, Media, and Information of Presidential Secretariat/Rusman)
INDUSTRY.co.id - Members of the Indonesian National Defense Forces (TNI) and the Indonesian National Police (Polri) must synergize for the nation and the country as they are on the front line of national defense and security, according to President Joko "Jokowi" Widodo.
"TNI and Polri must synergize, must continue to coordinate, must work together for the interests of the nation, the country, and the people of Indonesia," he said during the 2021 TNI-Polri Prasetya Perwira oath-taking ceremony, a ceremony held to inaugurate TNI-Polri members, Tuesday (13/07) at the Merdeka Palace.
The President also stressed that the friction between members of the TNI and Polri must not reoccur.
"Sometimes we still hear news about friction between TNI soldiers and police officers. Moving forward, it must not happen again. It must be over," he said, adding that in a tight global competition, the central national powers are unity and integration and Indonesia will never win the global competition if there is no strong national synergy.
"Social and cultural diversity must be utilized as power and a source of inspiration. All components of the nation must unite to create an incorporated Indonesia that can strongly compete in the global competition," he said.
Therefore, the President reminded all government organizations and state institutions to synergize and support each other.
"TNI, Polri, and other components of the nation must synergize for the good and advances of the nation. Specifically, TNI, Polri, and members of both institutions must synergize, join hands in carrying out heavier duties," he said.
The crises caused by COVID-19 pandemic, the President added, can strengthen sympathy, cooperation, unity, and togetherness, as well as speed up the efforts to improve working methods and to develop technology and industry.
The President also urged members of the TNI and Polri to learn from and participate in overcoming the crises and in reinforcing togetherness based on the national ideology Pancasila.
"Maintain solidarity and unity among members of the TNI and Polri by continuing to respect each other's functions and duties. And take a step towards dedication (to the country) steadfastly, with optimism and full of confidence," he remarked.