There is a Bocimi Toll, BTN Inaugurates Sukabumi Branch Office
By : Ahmad Fadli Dan Aldo Bella Putra | Thursday, November 23 2017 - 22:30 IWST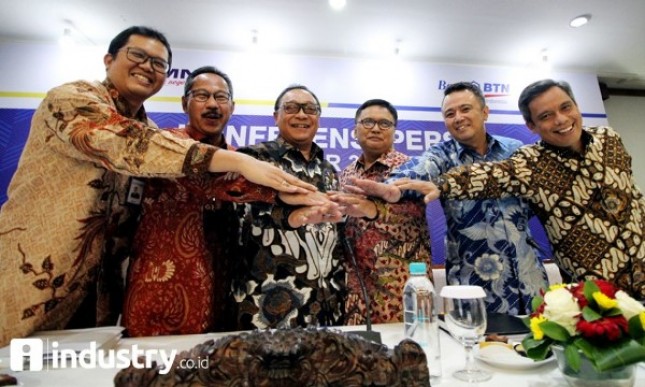 Dirut BTN (Persero) Tbk. Maryono bersama jajaran Direksi Bank BTN R. Mahelan Prabantarikso, Adi Setianto, Iman N. Soeko, Oni Febriarto R., dan Nixon L. P. Napitupulu Konferensi Pers Paparan Kinerja Bank BTN per Kuartal III/2017
INDUSTRY.co.id - Jakarta - PT Bank Tabungan Negara (Persero) Tbk may be drawing up a business strategy to pick up the ball. As is known the government has planned the construction of a toll road that will connect Bogor-Ciawi-Sukabumi (Bocimi).
The construction of this toll road is intended to facilitate the regional economic growth into the city area. This opportunity is read by the management of Bank BTN to immediately open branch offices in Sukabumi area. Strategic location is as business entrance to the Bocimi area.
"We inaugurated the branch office of BTN Sukabumi is definitely based on many business considerations.This branch office of BTN Sukabumi is the result of transferring status from BTN branch office which previously only as sub-branch office Now its status becomes full as branch office of BTN Sukabum," said Nixon L Napitupulu, Director of Bank BTN explained after inaugurating the branch office in Sukabumi, Thursday, November 23, 2017.
Nixon added that it could be true that the toll road development plan that will link Bocimi is included in the management count in improving the status of BTN Sukabumi. But actually outside of Sukabumi area also shows the trend of economic growth is quite advanced. The local industry of Sukabumi society has become its own icon and now it is developing very well. This industry encourages the economy of developing societies and tries to meet other needs. We want to enter as a bank to meet the additional needs of the growing economy, Nixon explained.
Now business is growing very fast. It must be balanced with fast service. Business processes must be fast and bureaucracy should be maximally reduced. But still all the process must be through the rules to remain GCG (good corporate governance). Therefore, to be able to provide better and faster service, the status of BTN Sukabumi branch office has now officially become a full branch office, he added.
Nixon also explained that BTN has a duty to support the Million Houses program. Sukabumi certainly included one of the doors that we hope to provide support for the program. BTN has competence in housing finance. The experience of more than 41 years in providing mortgage financing will be a capital not owned by other banks. This strategic capital will be utilized Bank BTN Sukabumi to be able to meet the needs of homes for people in this region.
Up to November 2017 (un-audited) Bank BTN Sukabumi has disbursed loans of approximately Rp.142 billion with an allocation of approximately Rp. 120 MIlyar to support KPR subsidy financing and around Rp. 21 MIlyar to support non Subsidized KPR financing. While the collection of DPK as of 31 October 2017 (un-adited) around Rp. 47 Billion. According to Nixon with full branch office status BTN Sukabumi will work harder to improve what is done when the status is still as a subsidiary branch. Home needs here are still wide open especially for non-subsidized and this we will ask BTN Sukabumi to encourage that potential to become a market that can dikuasasi by BTn, he said.
Bank BTN until the third Quarter of 2017 has disbursed loans totaling Rp50.94 trillion for 466,251 housing units. The realization consists of disbursement of subsidized credit for 319,798 housing units worth Rp22.2 trillion and non-subsidized loans for 146,453 housing units worth Rp28.74 trillion. This year, Bank BTN has a housing financing target of 666,000 housing units. As of September 2017, Bank BTN has reached 70% of the target.
In the same position, BTN Bank is supported by 903 service offices (conventional and sharia), plus 2,954 outlets of Post Office Online. The Company also has 1,964 ATMs spread throughout Indonesia.