Bank BTN Big Work is Toward Position 5th in National Largest Bank
By : Arya Mandala And Aldo Bella Putra | Sunday, October 08 2017 - 23:00 IWST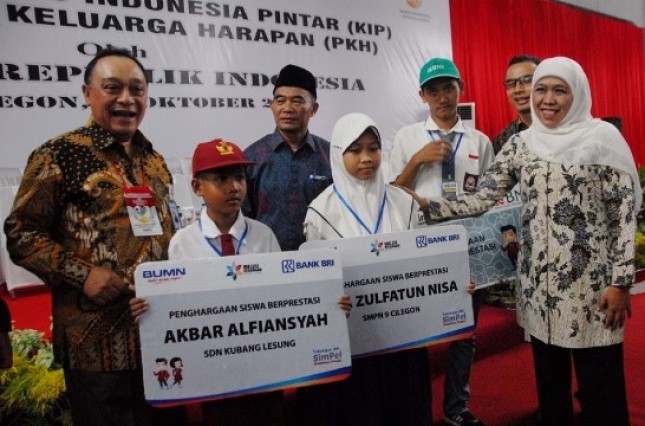 Dirut Bank BTN yang juga Ketua Himbara Maryono berbincang dengan, Menteri Sosial Khofifah Indar Parawansa dan Menteri Pendidikan dan Kebudayaan Muhadjir Effendy (Foto Rizki Meirino)
INDUSTRY.co.id - Jakarta, Optimistic with business growth in 2017, BTN develops organic and inorganic business. Several business plans have been prepared, from service upgrades to acquisitions of non-bank financial institutions.
In the midst of unstable global economic conditions, optimism still overshadows property growth in 2017. The reason is that Indonesia's fundamentals are still strong, which is marked by economic growth in 2016 of 5.02% or the highest in the last two years and is predicted to continue higher growth of 5.1% -5.2% (yoy) in 2017. Armed with this belief, the management of PT Bank Tabungan Negara Tbk (Bank BTN) stipulates a fairly aggressive target of profitability in 2017.
As stated by the President Director of Bank BTN, Maryono, to the editor of Industry.co.id some time ago. BTN set a net profit growth target above 20% in 2017. It will continue BTN's achievement during the first half of 2017. Throughout the first half of this year, Bank BTN continues to record positive performance. In the first half of 2017, Bank BTN disbursed loans and financing worth Rp177.4 trillion, up 18.81% year-on-year from Rp149.31 trillion in the same period of the previous year.
The increase in the distribution of Subsidized House Ownership Credit (KPR) subsidy also became the largest contributor to the growth of housing loans of Bank BTN. As of June 2017, KPR Subsidi Bank BTN raised 28.34% yoy from Rp49.86 trillion to Rp63.99 trillion. The increase also occurred in the non-subsidized KPR segment that grew 11.09% yoy from Rp57.15 trillion in the second quarter / 2016 to Rp63.49 trillion in the same period this year.
Bank BTN still leads the market share of financing in the housing sector. For mortgages per March 31, 2017 BTN controls 35.4% market share and KPR FLPP's market share of 95.77% per June 2017. In total, mortgages and mortgages of Bank BTN grew at 19.13% yoy as of end of June 2017.
The net profit growth is supported by the ongoing Million Government House Program, with the government's allocation for this program also getting bigger. In addition, continued Maryono, a positive property business, given the need for housing in Indonesia is still large and property tends to be an investment choice of people in Indonesia.
The next supporting factor is monetary stability. Among the effects of relaxation of Loan to Value (LTV) and Financing to Value (FTV) which will be more real in 2017 and the change in BI 7-day repo rate policy as reference rate will also be a bearing for monetary stability amid sentiment of Fed Fund rise Rate.
The position of the benchmark interest rate is friendlier to be a supporter of the growth of better banking credit this year. Indonesia's strong fundamentals are also believed to be the strategy of infrastructure development, tax amnesty, and other government policies will be the momentum of business growth in various sectors, including property
Continue to Fulfill Million House Program Targets
The achievement of net profit growth target in 2017 will be pursued through the achievement of BTN loan growth and financing target of 21% -23%. While the mortgage sectors itself, the targeted growth will rise 33%. For KPR subsidized BTN target financing for 185,000 units of new homes. While for non-subsidized KPR BTN targeting will finance 78,000 housing units. In addition, BTN will also provide construction loans for developers in order to fulfill this Million Home Program.
In total, according to Maryono, in order to support the One Million House Program, BTN targets to disburse construction and mortgage loans to 666,000 housing units by the end of 2017. As of June 2017, he added, BTN has realized housing finance for 370,173 housing units or 50 percent more than target.
Some strategies are run BTN. For subsidized housing, BTN increased its promotion by holding the Indonesia Property Expo (IPEX) 2017 event held at the Jakarta Convention Center on 11 to 20 August 2017 and offers several facilities in the KPR program. Among other things, for non-subsidized KPR financing, the company offers mortgage interest of 5% fixed 1 year and 6.5% fixed 3 years. In addition there is also a down payment (DP) ranging from 5%, one hour approval, and a discount up to 20% for life insurance premiums. In IPEX 2017 also offered bundling mortgage facility for motor vehicles, furniture and other promos.
In addition to promotions in IPEX 2017, the bank also launched Micro KPR for low-income people with a maximum credit limit of Rp75 million. Meanwhile for commercial home loans, BTN offers special interest rates to customers and also simplifies the process of mortgage approval from 1: 5: 1 to 1: 3: 1
In terms of organic business, this year Bank BTN also set some strategies. In addition to strengthening the core business in the housing sector, BTN also seeks to increase low cost and sustainable funding by targeting the emerging affluent segment. In 2017 BTN Bank continues to increase fee-based income, as well as build and strengthen the infrastructure of digital banking, centralized operations, and process automation.
Housing Finance Center (HFC) became one of BTN's strategies to increase the mortgage financing segment. In addition to creating new developers with three pillars of research, education and consulting centers. Of the target of 1,000 participants who are educated by this body, currently there are 770 participants.
Among the HFC programs is the Mini MBA in Property that has scored 235 graduates who until early 2017. The program is the result of Bank BTN's collaboration with the School of Business and Management of the Bandung Institute of Technology (SBM ITB). This program provides four pillars of property development learned through this program namely land and environment (land & environment), capital (capital), legal (legal), and skills (skill).
Although there are many opportunities to grow the financing figure but BTN is not forgetting to keep on the risk side. As stated by BTN's Managing Director, Strategic, Compliance & Risk Bank Mahelan Prabantarikso, the company also focuses on strengthening Good Corporate Governance and comprehensive risk management.
According to him, BTN's strategy to improve consumer loan is focused on intensification of existing methods and strategies through collection, restructuring, and sale of assets or auctions. In the field of commercial credit, the improvement of the commercial credit business process is also carried out with the application of the authority to disconnect the more strict commercial credit. Improvements are also made through a more integrated credit monitoring process and updates.
Acquisition of Multifinance and Investment Management
Not to forget, to improve its business, BTN also set up a series of inorganic expansions especially in terms of products and services. In addition to its business development, the strategy is also an effort to pursue the fifth position as the largest asset bank in Indonesia.
More than that BTN wishes to expand its services to other countries. According to Managing Director of Finance & Treasury of Bank BTN Iman Nugroho Soeko, in the long term, Bank BTN is expected to serve customers not only in Indonesia, but also customers abroad. "In the long-term design or until 2025, the company aims to position Global Playership," said Iman.
Still in the framework of developing its business, BTN is also interested to develop wings into other financial fields. One of the inorganic expansions of BTN for the short term is forming a joint venture in the field of life insurance. The planned action implemented before closing the year 2017 is budgeted at Rp 200 billion.
In addition, the bank with the BBTN trade code will also acquire investment Management Company; BTN will acquire investment management and multifinance company owned by PT Danareksa (Persero) with a target to become the majority shareholder in both companies at least 51%.
Bank BTN said Faith has budgeted a maximum of Rp 300 billion for the acquisition of each of Danareksa's subsidiaries. The plan of forming a subsidiary in general insurance sector Bak BTN took Jasindo (Persero) with 89% ownership composition for Bank BTN, the rest Jasindo. Faith revealed the formation of general insurance requires funds amounting to Rp 200 billion.
The entire fund is prepared internally by Bank BTN for inorganic expansion needs to reach Rp 700 billion. "At least Rp 700 billion fund to meet the funding needs of three planned expansions," said Iman.
All BTN business plans cannot be separated from management's desire to continue the positive performance of the bank's business. As noted, not only for conventional bank business, Sharia Banking Unit (UUS) of Bank BTN also recorded positive performance. As of quarter II / 2017, UUS Bank BTN has disbursed Rp15.82 trillion of financing, growing 27.15% yoy from Rp12.44 trillion in the same period last year. The accumulation of DPK BTN Syariah also rose 20.34% yoy from Rp12.99 trillion to Rp15.63 trillion in June 2017.
With this positive note, UUS Bank BTN's assets grew 22.33% yoy to Rp19.33 trillion in June 2017 from Rp15.8 trillion in the same month last year. The net profit of the sharia unit also jumped 30.03% yoy from Rp151.3 billion in June 2016 to Rp196.72 billion in the same month this year.