Bank BTN Inaugurates New Branch Office in Sukabumi
By : Abraham Sihombing And Aldo Bella Putra | Friday, November 24 2017 - 22:00 IWST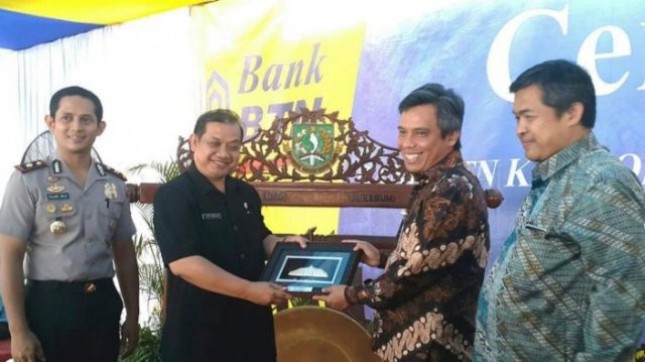 Nixon L Napitupulu, Direktur Bank BTN menjelaskan usai meresmikan kantor cabang tersebut di Sukabumi, Kamis 23 November 2017.
INDUSTRY.co.id - Jakarta - PT Bank Tabungan Negara Tbk (BBTN), or Bank BTN, inaugurated a branch office in Sukabumi on Thursday (23/11/2017). The branch office of Bank BTN Sukabumi is a transfer of status from the branch office of Bank BTN which previously had the status of sub-branch office to become a fully branch office in Sukabumi.
"The transfer of status from sub-branch office to full branch office of Bank BTN in Sukabumi is based on many business considerations. It could be that the plan to build the Bogor-Ciawi-Sukabumi toll road (Bocimi) is included in the management of BTN Bank to improve the status of BTN Sukabumi," said Nixon L. Napitupulu, BBTN Director, in Jakarta, Friday (24/11/2017).
Nevertheless, according to Nixon, outside of Sukabumi area also shows good economic growth trend. The work of the people of Sukabumi has become an icon of its own industry and is now developing very well.
"The industry encourages the economic development of people who try to meet other needs. We want to enter as a bank to meet the additional needs of the growing economy of the community," said Nixon.
Could be, Bank BTN is currently preparing a business strategy to pick up the ball. As is known, the government plans to build a toll road connecting Bogor-Ciawi-Sukabumi (Bocimi).
The development of the toll road section aims to facilitate the economic growth of the regions into the city. This opportunity is read by the management of Bank BTN to immediately open branch offices in Sukabumi area. Strategic location is as business entrance to the Bocimi area.
"Especially now the business development is very fast. It must be balanced with fast service. Business process must be fast and bureaucracy must be reduced as much as possible, but must remain transparent and in accordance with GCG (good corporate governance)," he explained.
Therefore, Nixon said, in order to provide better and faster service, the status of BTN Sukabumi branch office has now become a full branch office.
As of September 2017, Bank BTN has 903 service offices (both conventional and sharia), plus 2,954 Online Post Office outlets. The Company also has 1,964 ATMs spread throughout Indonesia. (Abraham Sihombing)