ETHICA Plant Investment Largest Pharmaceutical Industry in the Last 20 Years
By : Abraham Sihombing And Aldi Firhand. A | Friday, November 24 2017 - 17:07 IWST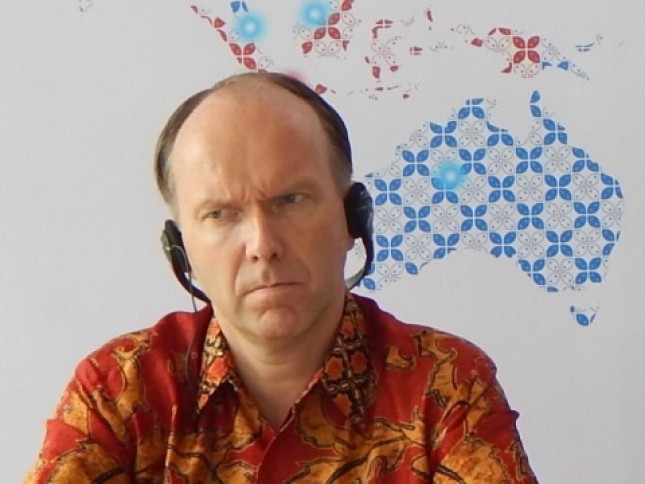 Gerrit Steen, President Director Fresenius Kabi Board Member for Asia (Abraham Sihombing Photo)
INDUSTRY.co.id - Cikarang - Gerrit Steen, President Director Fresenius Kabi Board Member for the Asian region said the construction of PT ETHICA Pharmaceutical Industry in Jababeka Industrial Park is Fresenius Kabi's largest investment in Asia in the last 20 years.
Fresenius Kabi is a company whose technology has been known to produce medicinal products, especially for infusions, transfusions and clinical nutrients to treat powerful people, especially chronic pain, Gerrit Steen said in his opening speech at the inauguration of a sterile injection drug factory PT ETHICA Pharmaceutical Industry in Cikarang, Thursday (23/11/2017).
Gerrit argues, Fresenius has stood for more than 100 years, precisely since 1912, and has 270,000 employees. The mission of this company is caring for live (care for life). The mission encourages companies to put quality above all else to help patients at a very affordable price.
With this factory, I am very glad that we will serve the people of Indonesia through various highly sophisticated technologies. I strongly believe that this will be very helpful to the people of Indonesia, said Gerrit.
Gerrit said, Indonesia is a very good country to invest because Indonesia is the fourth most populous country in the world. In the health market, Indonesia is the country that has the fifth highest purchasing power (purchasing power) in the world.
Moreover, the Indonesian government has made maximum efforts in the field of health through the National Health Insurance (JKN) so that it has provided access to the people of Indonesia to get quality health, said Gerrit.
Gerrit argues, with the growth of the pharmaceutical industry an average of 10% per year, Indonesia becomes an attractive place to invest in pharmaceuticals, both for the production of drugs and for future development.
In addition, Gerrit pointed out, Indonesia's ranking in the World Bank index for Ease of Doing Business is currently 72th from the previous 110th position in just two years. That is a remarkable achievement.
According to Gerrit, the ease of investing in Indonesia given by the government is also so precise that ETHICA will be able to provide Indonesian patients access to best and affordable injecting drugs that can help those who are sick, especially those who are chronically ill.
In the future, we will also export to Asia and Australia. Currently, we have been exporting medicinal products in the Asean region, especially to Vietnam, Thailand, Philippines and others, so that our medicines reach the patients there.
Gerrit asserted that Jababeka has also become the right place to develop various products needed by the people of Indonesia, namely by bringing a variety of global products owned Fresenius to the territory of Indonesia.
This is in line with government regulations to increase the number of pharmaceutical industries in Indonesia. Today and years to come, we will always help the government to make various efforts through JKN, "said Geritt. (Abraham Sihombing)