President Jokowi Confessed Already Became a Family of North Sumatra
By : Herry Barus And Aldo Bella Putra | Saturday, November 25 2017 - 13:00 IWST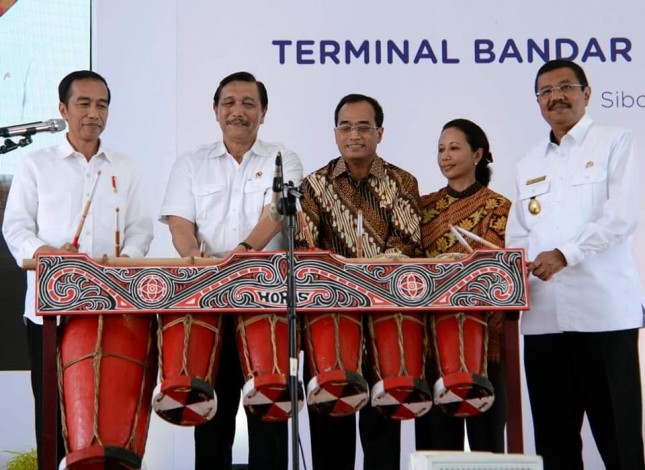 Presiden Jokowi Meresmikan Bandara internasional Silangit Medan
INDUSTRY.co.id - Medan - President Joko Widodo admits he has become a big family of North Sumatra, after his daughter married a native man from North Sumatra.
"I have now become a big family of North Sumatra, you know, I do not think anyone knows," said President Jokowi during the distribution of 8,300 land certificates at T. Amir Hamzah Stabat Square Square Langkat.
Kahiyang Ayu, the daughter of President Joko Widodo who is married to Bobby Afif Nasution officially bears the Siregar clan.
"Then there was someone who greeted me, Sir Siregar Sir .. There also greet me Pak, I Nasution Pak I understand, we are all brothers," added the President.
The President also admitted he had often visited Medan but had never visited Langkat.
"It was reported in North Sumatra that 3.9 million should receive certificates but only 1.4 million have been received, approximately 30 percent have received.In Indonesia, the same should be 126 million who hold the certificate, but only 46 million hold," the President said.
He admitted that last year, the President ordered the chief minister of the State Land Agency to immediately complete the land certificate.
"This year, which is usually issued 400,000 certificates I ordered 5 million certificates have to come out, next year 7 million certificates must be out, next year 9 million certificates must be out, must, I count, I work I count, not just orders," said the President.
That he did because he often received land disputes complaints while visiting the region.
"Because every time we come to the village, to the area, it always complains about land disputes, land disputes, community and society, society and company, people with the government, right?
According to the President, the land certificate is a legal right to land.
"If this hold is good, there are people who confess, this is my land, this is a proof, it can not do anything If we have this certificate, the proof of the right of our land has been completed, but if it holds this document, the law on our land," the President said.